Moroccan Hakim Ziyech joins the list of the players that fans can not wait to watch in the most prestigious Africa's football tournament, the Africa Cup of Nations 2019. The competition kicks off on 21st June in Egypt with Ziyech expected to impress many with his skills.
Many football fans across social media are looking forward to seeing Ajax playmaker after his impressive displays in the Uefa Champions League Semi-Finals against Tottenham.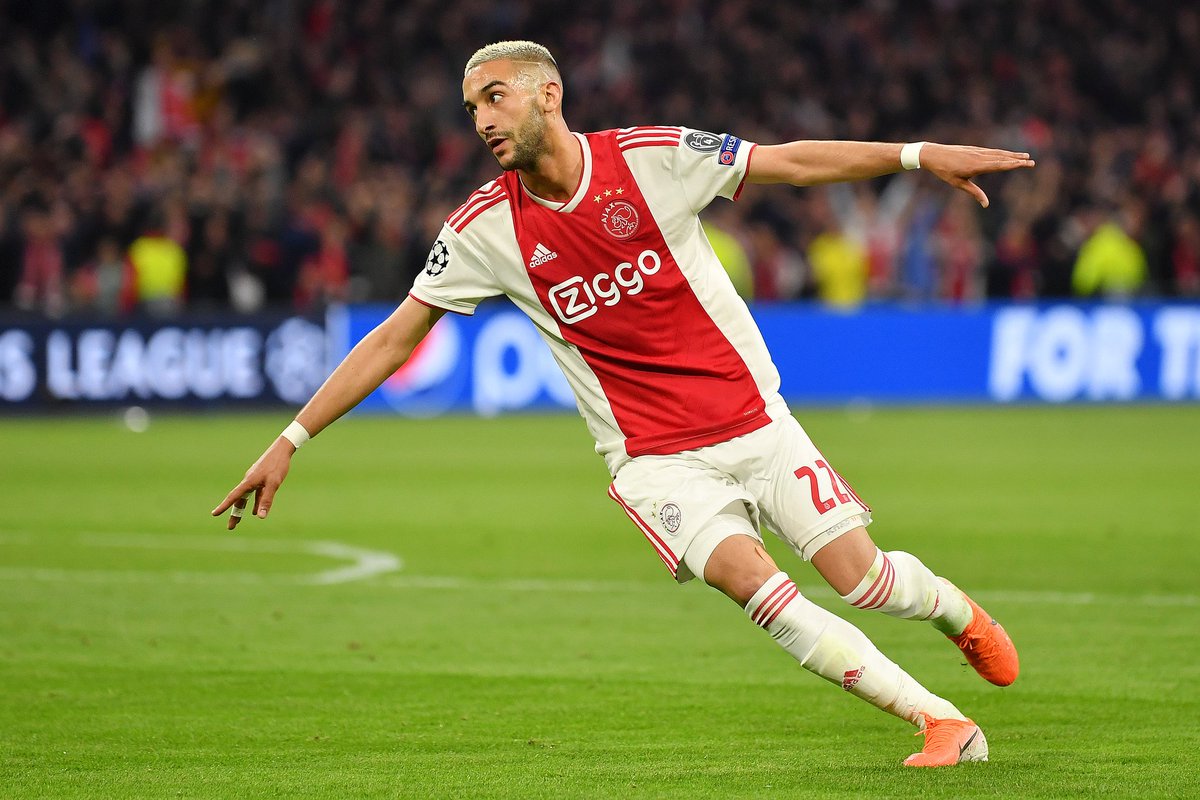 Despite Ajax's exit, Ziyech had an incredible campaign in the Champions League this term and he is second behind only Barcelona's Lionel Messi in the goals and assists table.
Ziyech won the Dutch Footballer of the Year, winning the Gouden Schoen (Golden Boot), one year after his Moroccan counterpart Karim El Ahmadi, took the award for his exploits at Feyenoord.
Day 2- Hakim Ziyech
He was adjudged the best player of Ajax this season

STATS this season
20⚽
20 🅰️

For Morrocco in the AFCON qualifier
3⚽

He's got a brilliant left foot known for his pace, dribbling and great set piece ability. Watch out for him at the AFCON#AFCON2019 pic.twitter.com/JGmOIP0edL

— Factual Mubarak (@HarunaMubarak3) June 5, 2019
The award, which is given by newspaper De Telegraaf in partnership with the Dutch football federation, was also won by Mounir Hamdaoui, a Moroccan in 2009.
The 25-year-old scored nine goals and managed 14 assists in 34 appearances for Ajax last season as they finished second in the Eredivisie.
"I think he plays football in a nice team, with lots of good footballers around him and it runs smoothly, which gives him pleasure and motivation to achieve even more."Ajax's managing director Edwin van der Sar expressed his happiness with Ziyech.
Hakim Ziyech sur Instagram :

"Getting ready…✌🔥🇲🇦"#CAN2019 pic.twitter.com/q1K1e59nJT

— T-Ziyech (@TeamZiyech) June 5, 2019
Ziyech, who was part of the Atlas Lions squad at the World Cup in Russia, was also voted Ajax's player of the season by the club's supporters.
He was also one of the best players in the Netherlands as he played with Netherlands youth team; but, in September 2015, he surprised Netherlands team as he chose to play with his mother country, Morocco.
He was chosen as Footballer of the Year 2018 with Ajax Amsterdam & in Netherlands.
@AFCAjax Hakim Ziyech on why he chose Morocco over the Netherlands, AFCON and comments his non-inclusion on the CAF best 11 list. pic.twitter.com/t3El511syv

— Oma Akatugba (@omaakatugba) April 11, 2019
Ziyech has had his best season, leading to a lot of clubs wanting to sign him but the player's focus is now AFCON where he plans to also have a good run.
All Clubs Appearances: 307
International Appearances: 23
Goals: (Club = 102) (International = 10)
Assists: (Club = 104) (International = 4)
Sit down and take a moment to enjoy. 🛋😍

🇲🇦 All goals & assists 18_19 –> Hakim Ziyech!

— AFC Ajax (@AFCAjax) June 5, 2019
Morocco will play two friendly matches in preparation for the 2019 African Nations Cup in Egypt.
The Atlas Lions will meet Burundi on Wednesday, June 12nd, in Morocco. Then they will face Zambia on Sunday, June 16th.
Hakim Ziyech! I can't wait for the AFCON!

— Caesar Motsoako (@BozariGHZ) May 8, 2019
I guess I'd be supporting Morocco and Hakim Ziyech for this Afcon then

— #Josh.Acquaye💫❤️ (@josh_gunner1) May 21, 2019