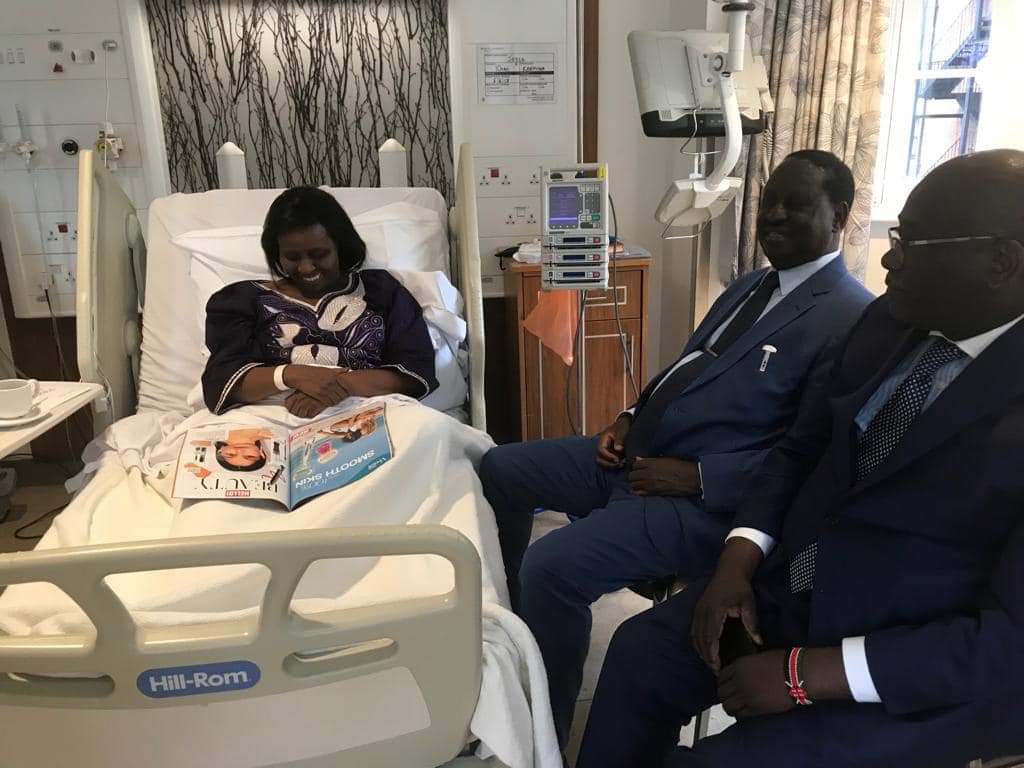 When The ODM Party shared pictures of their leader Raila Odinga visiting ailing Bomet Governor Joyce Laboso in a UK hospital, they didn't know the storm that they were about to create.
The problem with Kenyans is not the fact that Laboso is seeking medical attention abroad, their issue is with the words 'Local Hospital!' which were used by ODM. Most people have interpreted this to mean the governor is being treated in a public hospital.
Joyce Laboso admitted in a PUBLIC HOSPITAL in England.
What's wrong with our public hospitals?
We have no faith in our own doctors?

— Cheraganet Arap Chemosit (@DreKariuki) June 5, 2019
As a governor, Laboso is directly in charge of improving health facilities in her county. The fact that she travelled all the way to London means she does not believe in the health systems in her county and across the entire country. I thought these politicians should be leading by example to make Wananchi believe in Public Hospitals.
The Governor of Bomet Joyce Laboso currently admitted in a London hospital but she still expects the people of Bomet to trust in the county's healthcare facilities. Shame.

— susan njagi (@SueKE254) June 5, 2019
Hawkeyed Kenyans have shared pictures of Bomet hospitals on social media and we now know why Laboso chose to go to the UK. It is a sorry state of affairs in her own backyard.
Joyce Laboso Vs Bomet voters pic.twitter.com/UxJDeFQ6eQ

— Cyrus kipkirui (@CyrusKips) June 5, 2019
But there seems to be a problem with Bomet County. Kenyans can't forget how their previous governor Isaac Rutto, was airlifted to South Africa to seek treatment for a broken nose. Interestingly, Raila Odinga was among the first people to visit Rutto at the Nairobi hospital during the November 2016 incident. Rutto, the first Chair of the Council of Governors, went to South Africa for specialised treatment after being hit with a teargas canister at Silibwet Stadium.
Before news broke about Laboso's admission in the UK, the governor had already made headlines for the construction of a Ksh6 million brick bridge that has since collapsed.
Joyce Laboso a whole Governor who spent millions building two sketchy Bridges & one collapsed is now enjoying Treatment in a Public hospital in London when she can't even put up a good hospital in Bomet. When you think Women leadership can solve our problems Boom! Joyce happens.

— YURI™ (@IamBravin) June 5, 2019
The bridge collapsed on Sunday.
The enemy is in Bomet County. Joyce Laboso used ksh6million for this bridge. And it collapsed yesterday. pic.twitter.com/R3BVAnntHX

— Lord Abraham Mutai (@ItsMutai) June 2, 2019
Kwani hii watu ya Bomet walikosea Mungu nini?