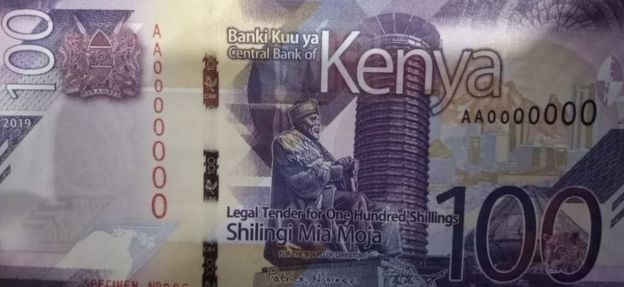 Kenyans were shocked when they saw the portrait of Mzee Jomo Kenyatta on the new currency notes unveiled by CBK governor Patrick Njoroge on Madaraka Day.
What is Jomo Kenyatta doing on the new currency? We thought the purpose of the change of currency was in line with the constitution, which clearly states that the notes and coins shall not depict the images of any individual.
The constitution states that "Notes and coins issued by the Central Bank of Kenya may bear images that depict or symbolise Kenya or an aspect of Kenya but shall not bear the portrait of any Individual" What is the statue of Jomo kenyatta doing on our new currency? pic.twitter.com/Lyyr738RM4

— Lazooj (@Lazooj) June 1, 2019
It is not like we are short of images to portray on our coins. So why would CBK contravene the constitution and force Mzee Kenyatta on the coins? Was it to massage the ego of President Uhuru Kenyatta?
What is Jomo Kenyatta doing on the new bank notes? Impunity is another name for this country. Who is Jomo Kenyatta to be forced on the notes against the constitution? What is really wrong with Africans? We don't have respect for each other. @njorogep why? pic.twitter.com/BFtzVAUlSB

— Lord Abraham Mutai (@ItsMutai) June 2, 2019
Despite being the founding President, Some people believe that Mzee Kenyatta was one of the biggest plunderers of public resources and does not deserve to be the face of our currency.
Remove the image of Jomo Kenyatta from our currencies. The guy plundered the country and never brought value to us. We can't and shouldn't be forced to celebrate him.

— Robert Alai (@RobertAlai) June 2, 2019
Self-proclaimed NRM General Miguna Miguna was the loudest critic with criticism that borders on insults. The Canadian based lawyer said that Kenyatta's names should be removed our country's monuments, airports, roads, buildings and currency using sulphuric acid.
Kenyatta twice? Statue and building? Why is this family so determined to tie us to this dead man? And why cant any of our politicians say no? What do they owe the Kenyattas?

Haki huu ni uchawi. This cannot be normal. pic.twitter.com/IagiyI4wko

— #LandFirst Mwalimu Wandia (@wmnjoya) June 2, 2019
Economist David Ndii was lost of words but just managed to utter the words, #KenyattaMustFall. Rarieda MP Otiende Amollo argues that this is not about just about symbols it's a debate about what Kenyans wanted and voted for in the constitution.
Have Seen The New Notes Unveiled. I'm personally persuaded they're contrary to A. 231(4) of the Constitution, to the extent that they bear the image & potrait Of The founding President. Are we short of Images that depict Kenya? Thumbs down on this! pic.twitter.com/J4Ku4rXhKO

— Hon. Otiende Amollo (@OAmollo) June 1, 2019
Some people have however argued that Mzee Kenyatta is part of our history. He is the founding father of this country and deserves to be the face of our currency.
Whether Jomo Kenyatta was a murderer or a land grabber, he is Kenya's founding father, we can't run away from our past, his portrait should always remind Kenyans what happens when you hand over instruments of power to men only because they can speak English fluently 😂…. https://t.co/2Z0l7KRZXV

— ken musa (@kenmusa2016) June 4, 2019
"What I do not understand is the problem people have with our founding father which is now a portrait. Kenyatta never enforced himself on us!" Nairobi County Assembly Speaker Beatrice Elachi says.
Already two people; EALA MP Simon Mbugua and Activist Okiya Omtata have sued the CBK over the use of Kenyatta's image on the new currency. CBK governor Njoroge says he is ready to meet anyone in court as a matter of urgency because designs of the new currency notes met all aspects of the law including public participation.
Only time will tell who is right!