56th Madaraka day has marked the dawn of new currency notes in Kenya. The new bank notes with enhanced security features were unveiled by President Uhuru Kenyatta during the 2019 Madaraka Day celebrations in Narok County.
Present during the launch were Deputy President William Ruto, former Prime Minister Raila Odinga among other leaders.
The president was invited by Central Bank of Kenya (CBK) Governor Patrick Njoroge to launch the new notes.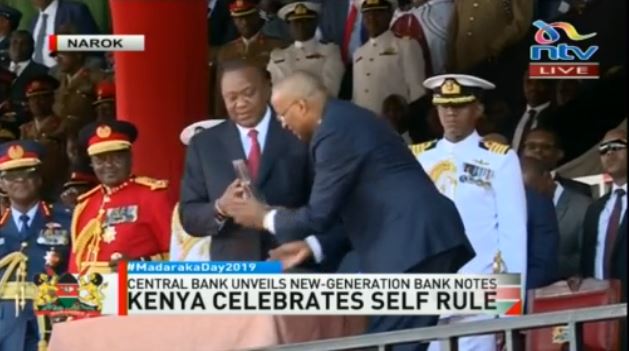 While speaking at the ceremony, Njoroge stated that the notes were already in circulation.
"The Central Bank of Kenya has completed the process of producing the new-generation bank notes in accordance with the Constitution all the laws
The front of the bank notes bear the image of the Kenyatta International Conference Centre (KICC).
A dove is also shown to symbolise a peaceful Kenya, the CBK says.
"The images on the back of the bank notes symbolise green energy, agriculture, social services, tourism and governance," the CBK adds.
The designs are also easier to spot for those with vision impairment.
To determine authenticity of the new notes, Kenyans are urged to hold up a note to the light and check for a watermark from both sides.
The watermark is of a lion's head and a security thread appears as a continuous line.
According to the CBK guidelines: "If you tilt the angle, you will see the security thread changes colour from red to green on all bank notes. The 200, 500 and 1000 bank notes have additional rainbow colours on the thread."
The golden band on the back shows the note value.
The old Ksh 1000 notes will be withdrawn in graft war even as the country seeks to tame runaway corruption in the country.
"All persons have until October 1 2019 to exchange Ksh 1000 bank notes for the new generation bank notes, after which the older notes will cease to be legal tender" ~ Central Bank of Kenya Governor Patrick Njoroge #MadarakaDay pic.twitter.com/uyD22NKfqB

— Citizen TV Kenya (@citizentvkenya) June 1, 2019