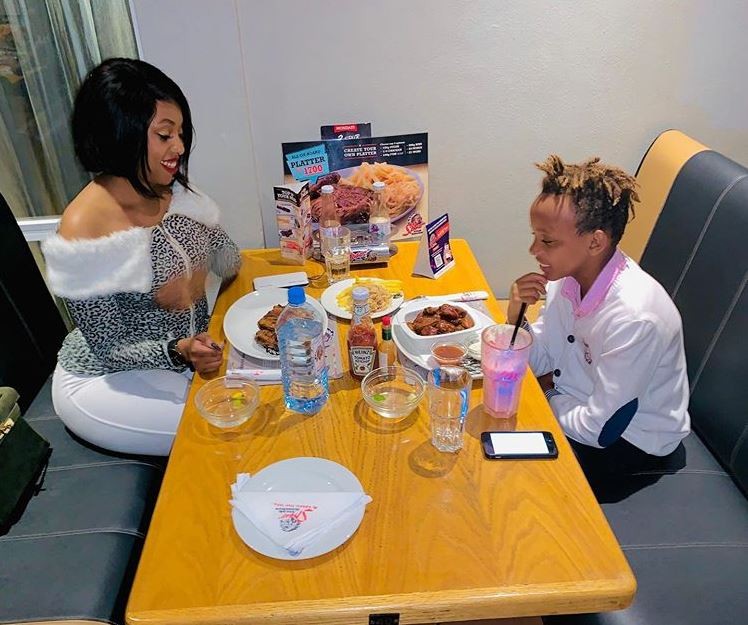 The key to raising a well-rounded child is to establish a solid support system at home so that he/she grows up satisfied with her achievements and ambitions. The goal as a parent is to help your child feel competent and confident and to help her develop a sense of passion and purpose.
Hot Kenyan socialite Faith Mutua alias Amber Ray has come out to disclose what her son once shared with her about what he would want to become when he grows up.
Taking it to her Instagram page, she wrote;
I love having dinner with my son coz it helps me know him more. So today I asked him, "what would you want to be when you grow up?" He said "i don't know" For a minute I was confused.. cause I was expecting a better answer, not sure which one exactly though cause the first time I asked that, he said he wanted to be a school bus driver the second time I asked him, he said he wanted to be an engineer (I wish you could see my smile) so, today I was expecting either the last answer or a better one.
Then I asked him why do you say "you don't know "? Then he said cause he will be what God wants him to be… I've never felt so much joy in my heart like this. Cause this a lesson I've learned recently in life… if I would have put God first…probably, I would be the happiest person in life. Everything I've ever wanted in life, He gave me, but guess what! I was never happy…
Until a couple of months back when I decided to let him take control of my life and trust me, I don't have everything I had in my life, but I don't think I have been this happy in my entire life. One day I'll share my story… all I have to say for now is God is real and He keeps His word!
Amber Ray is enjoying her new transformation and so is her son.