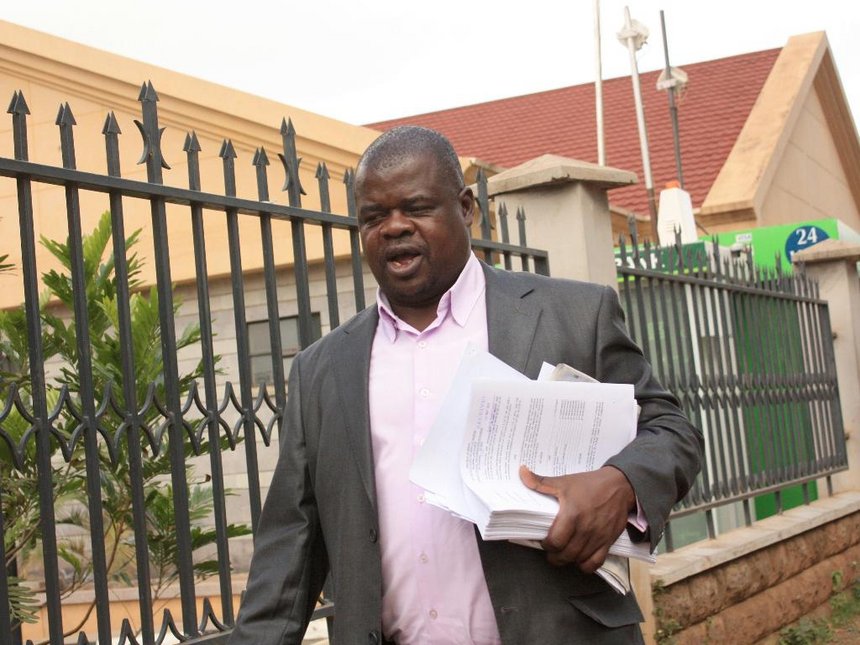 Activist Okiya Omtatah's bid to have the Employment and Labour Relations Court suspend the nomination of Kenya Revenue Authority (KRA) Commissioner General hopeful James Githii Mburu was dealt a blow on Wednesday when the court directed the the parties be served and the matter be heard inter partes on June 13.
Omtatah had filed a petition seeking the suspension of Githii's nomination pending hearing and determination of the case.
In his petition, Omtatah also claimed that Mburu is the incumbent John Njiraini's relative.
Omtatah under a certificate of urgency wanted the court to bar the KRA board of directors from validating the decision to shortlist Mburu.
"…..Pending the inter-parties hearing and determination of this Application.. the Honourable Court be pleased to issue a temporary order of prohibition of the 2nd Respondent (KRA board of directors)…..from proceeding to give effect to the decision to shortlist the 1st respondent (Mburu) as a candidate for appointment as Commissioner General of the Kenya Revenue Authority" read the petition.
Omtatah argued that the shortlisting of Mburu is a clever scheme to ensure that cartels at Times Tower retain power through Mburu after Njiraini leaves office.
"It is instructive to note that the petition sought to stop the capture of KRA through vested interests through the choreographing of the 1st interested party (Mburu) to succeed Njiraini as Commissioner General of KRA," read Omtatah's petition.
He further argued that Mburu's appointment as Commissioner for Intelligence and Strategic Operations was also a calculated move to ensure that he is imposed as the next top taxman.
"It is upon hearing of this case that the 1st respondent and the 2nd respondent created the position of Commissioner for Intelligence and Strategic Operations and handpicked the 1st interested party to fill the position in a drawn out scheme to rig the appointment of Njiraini's succesor," reads the petition.
In 2017, Omtatah filed a case that is still pending in court in which he challenged the creation of the vacancy for Mburu.
Mburu is viewed as the front runner in the race to succeed Njiraini due to his vast political connections and the power he wields at Times Tower.
He was also instrumental in leading investigations that led to the arrest of dozens of KRA junior and middle-level staff members two weeks ago accused of conniving with taxpayers to evade tax obligations
Others shortlisted include Julius Waita Mwatu, Richard Boro Ndung'u, Andrew Kazora Okello and Duncan Otieno Nduru.