Kenya's ex-minister has breathed his last after facing a tumultuous sickling lifestyle for over 20 years when he left active politics according to sources close to the family.
Fredrick Oduya Oprong the former Assistant Minister for Economic Planning and National Development and Teso MP  passed away on Saturday at a Kenyatta National hospital where he was undergoing treatment.
The deceased's sons Isaac and Joel confirmed that Oprong, 83 died while in the Intensive Care Unit (ICU) at the KNH.
The late Oprong was born in 1936.
The fallen retired politician was awarded the Head of State's Commendation (HSC- Civilian Division) for his contribution towards national development.
During his hay days, late Oprong was among the politicians who joined the late Jaramogi Oginga Odinga to push for the release of Mzee Jomo Kenyatta from detention.
In 1993, he narrowly escaped death when gunmen shot him twice while driving home in the evening to Mariakani Estate, Nairobi, leaving him with shrapnel lodged in his head.
Doctors managed to successfully remove one bullet but could not touch the one that was behind Oprong's brain as that would have put his life at risk.
For 26 years, the former lawmaker has been walking with the bullet in his head.
His family has taken him to different hospitals for specialized treatment but the bullet could not be removed.
Oprong once served as a true trade unionist for the Kenya Mines, Quarry and Workers Union where he was the Secretary General 1n 1964.
In 2015, Oprong was admitted to the Moi Teaching and Referral Hospital in Eldoret where, without insurance, he accumulated a huge medical bill that the family struggled to pay.
This prompted Deputy President William Ruto to come to his rescue and he settled the bill.
His closeness with Jomo Kenyatta enabled him win the Amagoro in 1963. He was among the 11 MPs who survived by-election in 1966 during the mass defection to  Jaramogi Odinga's Kenya People's Union.
In 1969 he was defeated by Ojamaa Ojaamong who served for a short stint before his death in a road accident.
In 1974 Oprong bounced back this time riding on a KANU and served up-to 1979 when he lost to Achiya Echakara.
Echakara was gunned down in 1987 by assailants when he was serving as Assistant Minister for Finance and Economic Planning during his second term.
When the mini-poll was conducted, Pancras Otwani won and took over from Echakara.
In 1992 elections Oprong won. It is during this time when he was serving as MP that he was attacked.
Albert Ekirapa defeated him in the subsequent polls. Ekirapa was later defeated by Sospeter Ojaamong from 2002 to 2013 before Amagoro was divided into two and gave birth to Teso North and Teso South with Arthur Odera and Mary Emaase pioneer MPs respectively.
Oprong was a close ally of Orange Democratic Movement (ODM) Leader Raila Odinga. In 2015, Odinga visited the ailing former legislator where he accused the Jubilee government of neglecting Oprong.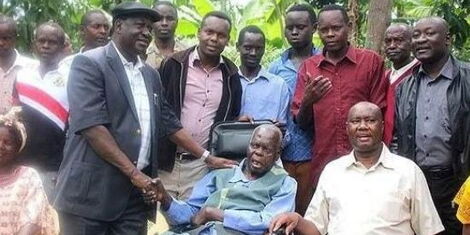 He had two wives and 28 children.
RIP!