It is no secret President Uhuru Kenyatta loves his drink and he is never shy about it .
Proven by City Lawyer Miguna Migiuna's words, Uhuru would not trade it for another most of the times.
One of the many times is when Uhuru publicly gulped a full mug Senator Keg within seconds sending those present amazed.
Uhuru was touring Kisumu when he was presided over the ground-breaking for a new state-of-the-art brewery that East Africa Breweries Limited (EABL) is setting up in Kisumu in 2017.
After inspecting the plant, Uhuru, as expected, hit the counter and was offered a sip of Senator Keg by the bartender. Shock on her.
Uhuru, a renown lover of the brown bottle, reportedly ordered for a full mug instead.
He is quoted as saying, 'Hiyo ni kidogo sana, ongeza,' amidst laughter from those who attended the fete.
In a different occasion, while taking at the State dinner in honour of South Africa's President Jacob Zuma, President Uhuru chose alcohol over juice which most of the guests around him were taking.
He has presented a bottle of French champagne early in the year 2016 and his reaction almost crashed the internet.
Meanwhile, the two presidents accompanied by other high profile government officials took to the floor where they danced the night away.
A selection of both Kenyan and South African songs such as 'Ndihamba Nawe' excited them with Zuma and Kenya's Defence Cabinet Raychelle Omamo dancing together ecstatically. Uhuru and Zuma enjoyed the night after bilateral talks on trade, travel and defence.
In another occasion a hilarious photo of President Uhuru Kenyatta appearing perplexed at the sight of a bottle of champagne captured the attention of many on the internet.
The picture was taken on Sunday as President Kenyatta was officiating the close of the 2016 Barclays Kenya Open Golf Championship at the Karen Country Club.
Mr Kenyatta's expression was captured as he was being presented with a three-litre bottle of G H Mumm, a French champagne.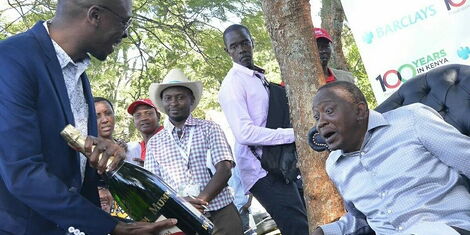 The president has on different occasions been caught on camera driving himself on the busy Kenyan streets.
He has in the past, as an MP, slipped away from the eye of his security detail to enjoy some private time, and what better way to do that than have a calming solo drive.
The photo went abuzz on social media which strong speculations that the president drove while drunk .
Economist and public intellectual David Ndii once unleashed a wave of attacks against President Uhuru Kenyatta, saying the head of state has a habit of showing to work drunk.