As the Huduma Namba registration exercise comes to an end this Saturday, the government has revealed that all those citizens who gave wrong information might be forced to undergo a second registration.
This comes after the government suspected that most people might have given out false information willingly or unwillingly for the fear of the unknown.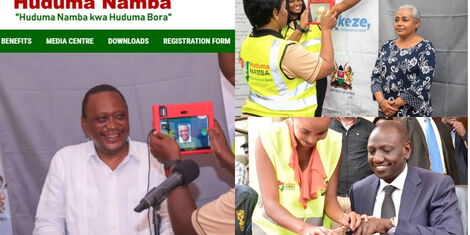 Government spokesperson Col. Oguna, speaking in a press conference on Thursday, revealed that those who might have accidentally given wrong information will be contacted when the mass registration deadline closes on Saturday.
"When the mass registration comes to an end on Saturday, what will happen thereafter is the process of cleaning the data; there will be some areas that the data may look same or maybe it was not entered properly," said Col. Oguna.
According to the former career military officer, individuals contacted to register afresh as well as those who will have been locked out by the deadline, will then be forced to seek out their area Assistant Chiefs on whose doorsteps the process will be transferred.
Matiang'i on  Thursday said more than 36 million Kenyans have so far been captured on the National Integrated Identity Management System (NIIMS).
Matiang'i said no one will be forced to register. Kenyans have also been assured that their details will be secure. The countrywide Huduma registration exercise was launched by President Uhuru Kenyatta on April 2 in Machakos county.
Despite the assurance, some Kenyans are still reluctant to embrace the exercise with many still asking the questions of how the data is collected, Who has access to it? How is it transmitted? How is it stored?.
Many believe that all their identities will be stolen and someone will transact business on their behalf. Worse they believe data protection laws (still being debated) are totally inadequate to handle such a "complex" situation.
Kenya Human Rights Commission, Nubian Rights Forum, and the Kenya National Commission on Human Rights had tried to stop the exercise at Milimani Law Courts, but were overruled by the court.