With 2022 political race already taking shape, many presidential aspirants in Kenya are already crisscrossing the country in a move to create friends and solidify their support before the final whistle goes out.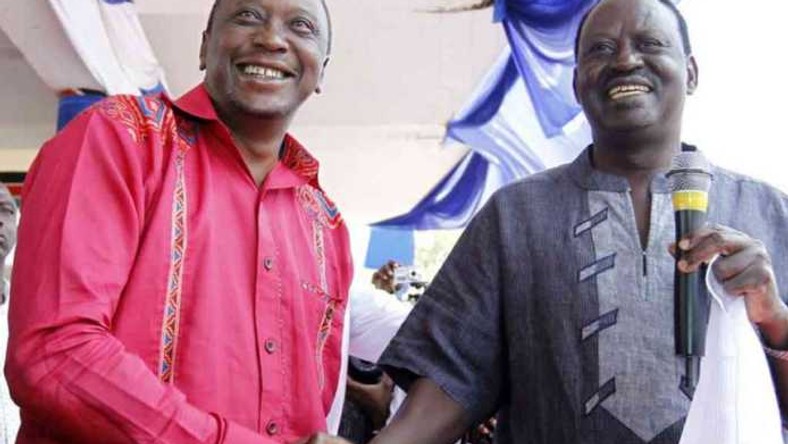 William Ruto who has been considered the most preferred candidate to succeed Uhuru has already set the pace for the rest with Musalia Mudavadi now unfolding his sleeves and defying the odds to sell his agendas.
Speaking in Kiambu at the home of veteran politician Nginyo Kariuki ANC Leader Musalia Mudavadi called on President Uhuru Kenyatta to come out and discipline a section of 'Jubilee elected leaders' who are sabotaging his big 4 Agendas and also fighting his war on corruption.
He castigated the current warring factions in Jubilee terming them as unhealthy to Uhuru's legacy and agenda.
"When an elected member from the Jubilee Party rubbishes the fight against graft and the handshake which are being spearheaded by the President who is the party boss, they are directly fighting him.
"It is time the party comes out and disciplines members, especially the elected leaders as it appears there is no control as far as party loyalty is concerned," Mr Nginyo said.
This was viewed as an indirect reference to deputy president William Ruto and his Tanga tanga team who have been so vocal against the recent "mistreatments" from the government side headed by President Uhuru Kenyatta.
Musalia indirectadmitted that he will work with Uhuru Kenyatta and Raila Odinga in 2022. Mudavadi observed that 2022 will be his time to lead the country after sacrificing his bids for Uhuru in 2002 and Opposition chief Raila Odinga twice in 2007 and 2017.
He declared that his eyes were now fixed on contesting for the top seat and was ready for political alliances that will propel his team to power.
Mudavadi's choice of making the announcement in President Uhuru Kenyatta's home county of Kiambu is of much political significance. His statement that he is ready and will be working together with the head of state is a climb down from his earlier position castigating the handshake between Uhuru and Raila.
"I want people to know that I am not far from Uhuru Kenyatta even though I am insisting that he should handcuff the corrupt," Mr Mudavadi said.
"My challenge to the government is meant to encourage the president because some people in his administration want to ruin his legacy through wanton theft," he added, in reference to his recent push to have President Uhuru show results in the war against corruption.
Mudavadi has been criticised by his political competitors as a failure who has failed to unite the Western vote under one basket with many observing that the one-time vice president is too soft to run the country which needs tough-hearted leaders.
Mudavadi's host, Nginyo, on the other hand, told Mudavadi he should be closer with the president because it will make his political star shine even brighter.
Mt. Kenya region has left every aspirant salivating for its support in 2022 thanks to President Uhuru's second term which is coming to an end in 2022. With no specific kingpin from the region to succeed Uhuru, the place has been marked as a hotcake region with every suitor trying hard to garner its support.