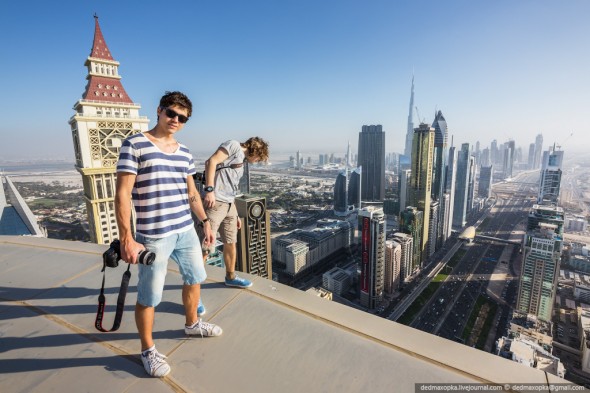 Dubai is exciting, and it happens to be a major tourist attraction in the world, and here you will come across not only high-rise buildings but also many places of interest too. In fact, it is imperative to stay in Dubai for at least one week to enjoy it thoroughly.
You need to plan your itinerary before visiting this destination to make sure you cover all the best places and ongoing events. In the following blog post, we will mention the most significant places to visit in Dubai for those on a strict time-frame.
Burj Al Arab  
Burj Al Arab happens to be the only 7-star hotel on earth and is perhaps the most notable Dubai hotel right now. As a result, you must have it at the top of your list while visiting Dubai. The structure has been designed to bear a resemblance to a billowing sail that soars up to an astounding height of 321 meters.
The Burj Al Arab is the 4th tallest hotel on the planet, and at night it wears a fantastic look being illuminated by choreographed lighting and is a spectacular sight to see for any tourist out there.
Burj Khalifa  
This happens to be the tallest tower on earth and showcases an incredible feat of engineering that one must not ignore. Here, you can take a trip to the top of the building where you can stand on the tallest viewing platform on the planet.
This platform is located on the 124th and the 125th levels of the structure and from here you can see the whole of Dubai. The trip to the top will begin from the Dubai Mall's ground floor where you will be entertained with a fantastic multimedia presentation of both Dubai's and the Burj Khalifa's history.
Desert Safari 
Another main point of interest in Dubai is the Dubai Desert Safari where you can spend a memorable evening full of scrumptious gastronomy, dance, and thrilling amusement. Going for a ride over the desert and spending an evening in a conventional Bedouin camp deserve special mention too.
You'll also have the option of enjoying a quad bike or dune buggy ride in the Dubai desert, each of which will last for 20 minutes. Apart from this, you will also have the opportunity of camel riding and witnessing entertaining belly dancing performances. After enjoying the entire evening, you can round it up with a delicious BBQ dinner.
Global Village 
Over the years, the Global Village in Dubai has been offering cultural entertainment to numerous visitors along with a global shopping experience. people come here to witness some incredible live performances, scrumptious gastronomy and genuine handicrafts, plus merchandise from different nations at the numerous pavilions.
The Global Village is never short of attractions that consist of exciting games, rides and also some enthralling firework displays too. In case you would like to learn more about this spot, it is worth checking the official website.
Apart from the 4 places of interests in Dubai mentioned in this article, there are many more that one must consider when visiting Dubai. Some of these include: Ski Dubai, Dubai Creek, Palm Island, Dubai Marina and Wadi Wadi. So, if you are planning to go to Dubai during your next holidays make it a point to visit each of these places to have a truly memorable time.