There are times that I feel slugish, slowed down, sloppy and just plain tired. Not because I dig latrine holes for a living or pull mkokoteni at Nyamakima…because  sit down a bigger chunk of my day in office nine floors up and bang the keyboards of my computer.
I feel tired because I see a lot of buildings daily. Some are gray and some are blue, some are twisted some are circular and rising like a metalic water flask and others are just plain boring and ugly.
I hate this feeling because I know it signals that I am fatigued. Plain tired, bored and fatigued. I rarely have off-days but when I get one, I run away from the hustle and bustles of Nairobi and zone-off back at shaggz where trees whisper at me when the wind blows.
For a country that thrives on agriculture, it is rather disconcerting that the majority of its population aspires to city life. I know a good number of youth who have never set foot on an actual farm and would die of thirst even as a well-endowed dairy cow looked on. That is until reality checks in and the apparent lustre of city lights fades.
Anyone who has ever tasted the joys of farm life: growing and harvesting your own food, as well as gathering produce from livestock-and cleaning after them; can attest that city life gets stale after a while.To his great pleasure not so long ago, this writer yearning for fresh farm air, travelled some 35 kilometres from Laikipia County's Nanyuki town to a Timau farm. Timau, as you might know, is one of the assembly wards in Buuri constituency, Meru County. Apart from being the literal point where the A2 road to Isiolo branches into Meru County, it is famous for rich farmland where the finest of export-quality roses, grain crops, and greenhouse horticulture are grown.
Timau's surrounding zone is even more celebrated for ranches and wildlife conservancies. On this trip, I was visiting a 120-acre farm that specialises in horseback safaris. These safaris into the Lolldaiga Hills last several days and nights, with farmhouse and fly-camp accommodation provided en route. Apart from safaris, the farm run by Clinton (my host) and his wife Elizabeth is home to a bush polo ground where polo lessons can be arranged for advanced riders.
The farm houses stables with 22 horses, a clubhouse, and five cottages. It has only been running for three years. If you ever needed proof that commitment and proper planning pays then a visit is recommended. This is because at inception the farm was a parched piece of land. After a tree planting drive a paradise dotted with cedars, acacias, podo trees, and many more species was created. In keeping with this initiative, the farm is aptly named Olepangi, which is the Maa word for the Erythrina Abyssinica tree (Red Hot Poker tree) that sheds all it leaves before flowering.
I arrived at Olepangi as the sun set with just enough time to spare for a game of croquet with Elizabeth and two young guests. I came last. The loss did not steal my cheer as we all gathered for a sundowner and later dinner at the 'Party House' clubhouse overlooking River Ngishishi. The next day, breakfast was served on a deck hanging over the river with an "Elephant Toothbrush" tree growing up through the middle. Lunches are eaten down the hill under shady trees beside the river.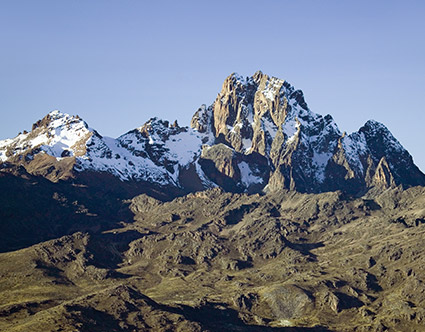 Like a fine day, Olepangi's architectural brilliance and superb location is best savoured at dawn. This is when one can enjoy animal sightings as well as stunning views north of the Lolldaiga Hills and sublime views south of Mt Kenya. On clear days, the full Aberdare mountain range and the Laikipia plains are visibleIn what became the shortest weekend of my life, guided by Josephat Kariuki I took a walk to Ngenia Primary School, which the farm supports.
I also squeezed in an excursion to Ngare Ndare Forest where I navigated the 400 metre elevated walkway high in the forest canopy and was awed by the shimmering blue forest pools.