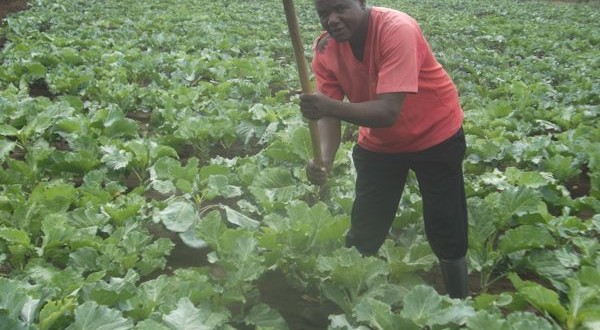 I once took a walk towards the Mboi Kamiti settlement scheme past Zimmerman area and found large fileds cultivated on either Sukuma Wiki or spinach alone. I was awestruck and inspired at the sheer energy and effort behind those beautiful rows of green.
I remember saying to myself, I will go back to shaggz and do something with that portion of 1 and 1/4 acre plot of land. I wrote down goals and strategies as to how I would carry out and achieve that dream.
Till todate, I do not know where that peice of paper went to. But again, human being will tend to surprise you now and then only if given the time and chance.
This is the story of an ex-military man and his Sukuma Wiki Farming: When he left the military after six years of service due to injury on the left eye, many expected Shem Modi to easily look for a job at a security firm or start a private company.  After all, he was a well-trained shooter and fire fighter from the Lanet Armed Forces Training College.
Instead, he picked a jembe, wore some gumboots and headed to his two-acre farm. His peers jeered at him for wasting his military training 'toiling' on the farms and some of his family members riled at him for picking up a lowly job.
However, the former service man ignored the noise around him and dedicated his time and energy to farming. With the Sh200,000 he had saved, Modi planted tomatoes and waited.  When harvest time came, he was Sh700,000 richer.
"This silenced everyone who was nagging me for not using my military skills better," says Modi.    As a man who earned a basic salary of Sh20,000 plus other allowances, he was excited at the prospects of farming and diversified to kale farming in his two-acre kale farm in Lak Liech village, Karachuonyo in Homa Bay.
He says he fetches Sh89,000 from a weekly harvest of sukuma wiki. Averagely, the farmer says he earns less than Sh1.4m from kale production every season translating to a monthly income of Sh356,000. Modi says he got into farming in 2012 after his six-year military career ended.
He says he got an injury while in service that prompted the surgery. "I was injured in my left eye and had a surgery. However, the recovery was not as I anticipated and I had to leave," Modi says.
He says his interest in farming developed after training by Kimira-Oluch Irrigation project by the Ministry of Regional Development and African Development Bank. "I am proof that farming is not for the lowly and cursed or a deadbeat undertaking," he says.
He targets high demand in November, December, January, March and April depending on how long drought prolongs. Apart from kales, he has also invested Sh150,000 in tomatoes growing on a one and a half acre farm and hopes to rake in Sh1m from the harvest by mid-this month when there is scarcity in supply.
Soldier' as he is known by the locals says successful farming is all about proper timing and planning, a 'secret' he is not afraid of sharing. "Yes, farming is all about timing and planning when to grow, harvest and sell.
I have figured that all out and that is what sets me apart," says Modi.  Usually, he grows kales in dry spells.  "At that time, sukuma wiki is like gold," he says.  To boost his income, he hopes to upscale kale production by October and targets an income of Sh50,000 per week come "I have already acquired another five-acre farm to grow more sukuma wiki and cowpeas," says the farmer.
The ex-military officer says farming has greatly transformed his life. "Since I am not entitled to any retirement benefits, I rely on farming to keep me going and take care of my family," Modi says. Despite the prospects, the farmer says pests and diseases are a big challenge in Sukuma Wiki Farming . He is also quick to advise farmers not to be quick to duplicate what they hear and read about other farms.