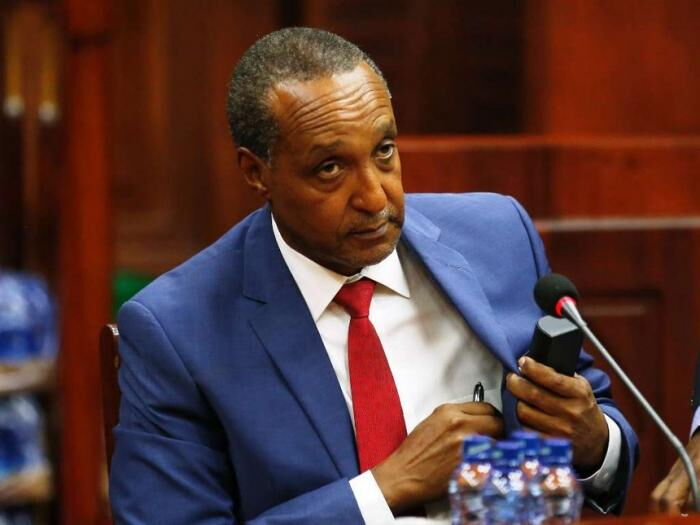 Foreign Affairs Principal Secretary Amb. Macharia Kamau has refused to apologize after he insulted a Kenyan woman.
Macharia has described Jerotich Seii as a nincompoop following her comments while appearing on KTN's Inside Politics show as a panelist.
Seii heavily criticized President Kenyatta's administration over its insatiable quest for loans that remain unaccounted for.
She mentioned the Standard Gauge Railway (SGR) as an example, saying that the rail has failed to achieve its economic goal.
She further claims that the Chinese loans advanced to Kenya were a plan to 'colonize' Kenya, and take over the country's key economic assets.
Her sentiments rubbed PS Kamau the wrong way as evidenced in his tweet.
"Can you imagine what her ilk would have said at the turn of the 19th Century? Kilindini Harbour and the "lunatic express" being built on loans as it was. It's a wonder we are still not slaves!! Where do they find these nincompoops? Where would Kenya be without the loans and rail?" poses Kamau.
"Free speech in Kenya is the scream of cliche, ignorance and psychological dementia brought on by minds warped by thousands of western financed workshops and freebie "training programs." We don't need a million Chinese at our gates to ruin our country, not with our talking heads."
However, Kenyans online confronted Kamau for insulting the lady and demanded he apologizes.
"Bwana PS, if this is your real account, Kenyans expect more sobriety and class from a diplomat of your stature… why the arrogance when your government is simply being asked to be accountable for the debt Kenyans are incurring?" says Journalist Ben Kitili.
City lawyer Ahmednasir Abdullahi tweeted: "Ambassador Kamau is normally sober and gentle…this is unlike him…a few lessons in anger management is recommended…" 
Lawyer Donald Kipkorir noted:"In abusing @JerotichSeii , a leading conscientious Citizen, you broke Chapter 6 of the Constitution & the Public Officer Ethics Act . You don't deserve to be in public service & President Uhuru Kenyatta has no choice but dismiss you. You have disgraced your office. SHAME ON YOU."
In response, PS Kamau remained unapologetic and declined to withdraw his statement.
"Ok guys. Some clarity. free speech is sacrosanct. That was never my contention. Mine is the manner of the uptake by some. The reason I like this medium is precisely because it avails feedback. Some welcome, some not so. But all good. And FYI the views here are personal. Tuendele!" he tweets.