At least 41 people on board a Russian Aeroflot passenger plane have been confirmed dead when it caught fire while making an emergency landing at a Moscow airport on Sunday.
Television footage showed the Sukhoi Superjet 100 crash bouncing along the tarmac at Moscow's Sheremetyevo airport before the rear part of the plane suddenly burst into flames.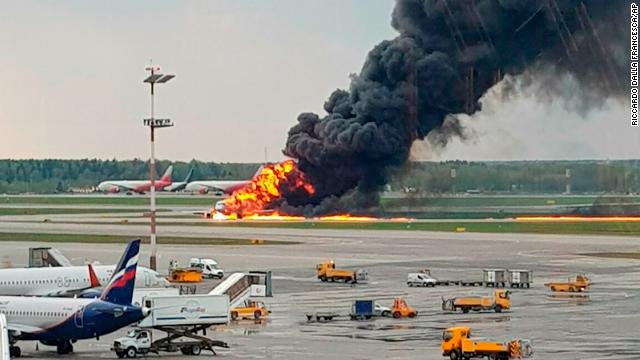 Many passengers on board SU 1492 then escaped via the plane's emergency slides that inflated after the hard landing.
The plane, which had been flying from Moscow to the northern Russian city of Murmansk, had been carrying 73 passengers and five crew members, Russia's aviation watchdog said.
Svetlana Petrenko, a spokeswoman for Russia's Investigative Committee, said in a statement that only 37 out of 78 people on board had survived, meaning 41 people had lost their lives.
No official cause has been given for the disaster.
The plane reportedly made several attempts to land, with airport officials saying that the plane caught fire when it made a hard emergency landing.
"The plane sent out a distress signal after taking off, started emergency landing procedures, failed to land in the first attempt, and in the second it hit landing gear and its nose on the runway and started burning," an unnamed source told the Interfax news agency.
Russian media, however, reported that the fire broke out on the plane before it landed. Russian authorities and the airline have yet to comment on the exact reason the jet turned around.
Investigators were at the scene in Sheremetyevo, Russian officials said.
The Sukhoi Superjet 100 made its first commercial flight in 2011. In May 2012, a plane of this type crashed while on a promotional flight in Indonesia with 50 people on board.