Tyra Banks has for the first time revealed how she overcame her cellulite problem, especially when she was the face of Victoria Secrets.
Cellulite is a condition in which the skin has a dimpled, lumpy appearance. It usually affects the buttocks and thighs but can also occur in other areas. It doesn't really matter if you are thin of fat anyone can get cellulite.
Tyra Banks is not an advocate of fixing thing surgically, you either 'fix it or flout it' that's what she always says. In this case she chose to flout it.
The former model said that she used to wear "long trains" when she walked in the Victoria's Secret Fashion Show to hide the cellulite on her legs and butt.
She was a VS Angel from 1997 to 2005 and one of the star attractions in the company's catwalk lingerie extravaganzas. 
In the new issue of V Magazine, V Magazine, Tyra interviewed Miss Universe Catriona Gray and in the article she revealed that the other models would be "jealous" of her extravagant long looks for the runway and Tyra spilled it was a handy trick to help cover the dimples on her legs and butt.
Gray said: "I've actually seen girls backstage spraying their body with hairspray. Apparently it helps with jiggling."
Tyra then said: "Oh no way! So it's a like a cellulite stopper? You know what's so funny … For years, when I did the Victoria's Secret runway, I would get these long trains and other models would get jealous, but it was to cover my cellulite! I wish I would have known the hairspray trick; I could've shown a little more!"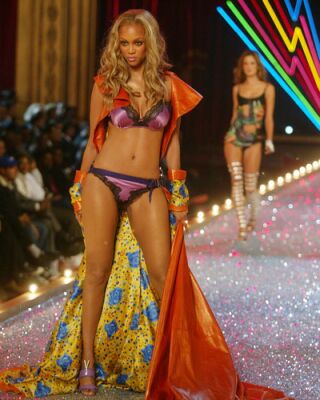 Catriona added: "I haven't tried it, but I saw girls doing it."
And the 'America's Top Model' star has learnt to embrace her "flaws" in her long modelling career because they are "awesome".
Tyra simply said: "I am all about 'flawesome' which means your flaws are awesome."