Its world press freedom day meaning Kenyan media will not only be celebrated but its freedom of operations criticized as well for there are always two sides of a coin.
Today's media is not trusted by the nation, they are taking a lot of hits from its audience who are tired of fake and exaggerated angles to attract readers who apparently are smart enough to not tolerate this stunts.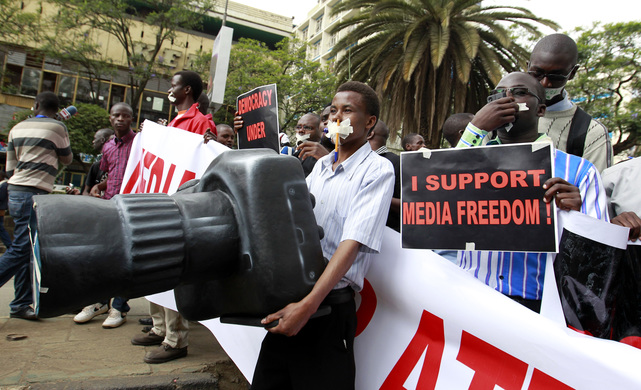 Many of their audiences have since branded them 'Githeri Media' due to little investigation and efforts put in the stories they air and publish.
Suffering the great consequences most recently is the Nation Media Newspaper who the High Court has ordered to pay Jimmy Wanjigi and his wife Irene Ksh 8M for a false obituary published in February 2018 claiming he was dead,
Judge Wilfrida Okwany ruled that the newspaper enjoyed the profit from the obituary and awarded Wanjigi Sh 4 million and his wife an equal amount for causing her anguish and pain. "Nation owed a duty of care to make sure that it published accurate and fair information.
It has also been revealed that the Standard Newspaper made a grave mistake to justice after including Faith Marende in today's headline as part of the ladies killed because of love.
Last year, a man who was photographed eating his githeri packed in a polythene bag while queuing to vote became a national sensation. He was even awarded the Head of State Commendation. Wags promptly coined the term "githeri media" to describe the state of journalism in Kenya.
If Gatundu South MP Moses Kuria talked about foreskins, the media would guarantee him a national audience.
Today a headline apparently cannot sell unless the name of the Deputy President William Ruto is linked to the story.
The news is full of the inanities and intrigues of politicians. Or reports about government plans, which are almost always never followed up to inform citizens about the extent of implementation and the impacts. A thorough investigative report is now rare.
Business news tells you about corporate events, mostly.
Do the media honchos know that many people are sick and tired of ludicrous content? We are at a point where not watching TV or not reading the newspapers is almost becoming a movement in Kenya.