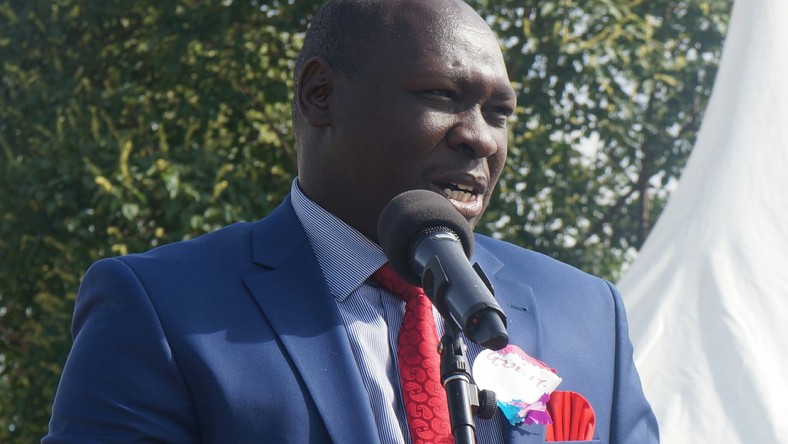 Cherangany MP Joshua Kutuny was once a fierce defender of DP William Ruto. He sang William Ruto ate Ruto and slept thinking about Ruto.
Kutuny defended Ruto with all his might.
Fast foward, Kutuny is William Ruto's daring critic. He has exposed Ruto for being corrupt and has openly declared war against William Ruto's 2022 Presidential bid.
During the Labour Day Celebrations at Uhuru Park, Kutuny took from where he left.
He took to the podium with his mastery of Sheng -Kenyan urban slang- as he narrated the troubles of Kenyan low-income workers in the construction and manufacturing sector.
"Mimi nataka kuzungumzia vijana. Hata ku-marry imekuwa ngori…juu hakuna doh maze. Si mshahara ni shillingi elfu kumi na mbili, na ikitoka NHIF inachukua, na NSSF, unabaki na elfu sita. Sasa hujui kama ulipe keja, ama utashughulikia wife ama mtoi," Kuttuny said
In English: "I want to talk about young men who find it even hard to marry because there is no money. Look, the pay is Sh 12,000, but when it paid NHIF and NSSF take their cut leaving you with Sh 6,000. So you wonder whether to pay your rent or take care of your or the child."

Cheers followed as he proceeded with another comical yet cunningly formulated joke aimed at the Deputy President who has been losing some poultry products after it emerged his farm workers have been stealing eggs.

"Masikitiko yangu yangu bwana Secretary General, ni mtu akiiba crate mbili ya mayai anawekwa ndani na mwingine akiiba bilioni saba anaachiliwa…ni noma si noma, inabamba haibambi," meaning: "What saddens me secretary general is that when one steals two crates of eggs, he is being jailed while the other who steals Sh7 billion is a free man," he added.