Kenyan Activist Boniface Mwangi has opened up about his humble beginnings.
The activist revealed that before he became an activist and political aspirant he did odd jobs here and there to make ends meet. Among the many jobs he did, Boniface cleaned buses, sold peanuts & pornography magazines (Seen) and was a supermarket attendant at Tuskys.
Commenting on the 5 Jobs challenge that has been doing rounds on Twitter, Boniface wrote "5 jobs; 1. Houseboy 2. Bus sweeper 3. Hawker- sold books, peanuts, ice cream, petticoats, teddy bears, flowers, and eeeh *seen magazines 4. Supermarket attendant at Tuskys 5. Paparazzi- before social media, Pulse Magazine was IT- we made people famous @marcusolang #5jobs"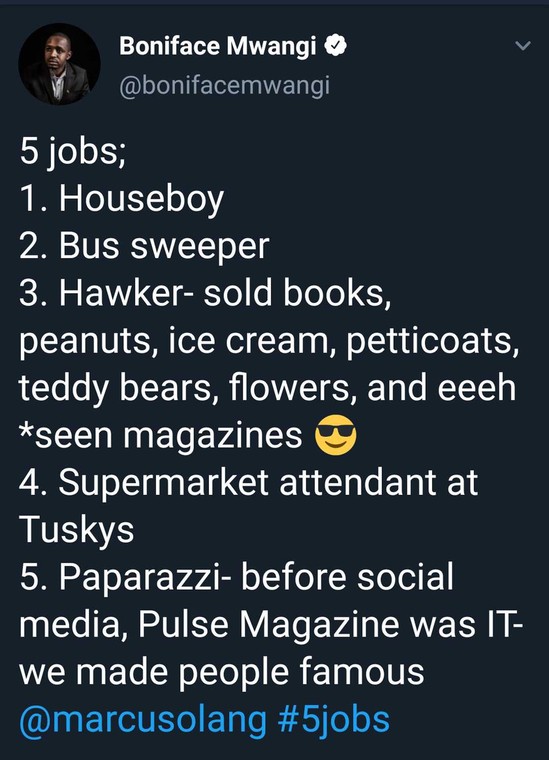 Bonnie is not the only celebrity who has had humble beginnings. Mzazi Tuva worked as a painter, Maina Kageni as a truck driver while Larry Madowo sold tea and mandazi in Gikomba.
"I used to be a painter long before I became a radio & TV presenter. I was born an artist, a cartoonist and a painter. I have had a daily cartoon column in a popular Kenyan Newspaper since my first year in college. Nilikuwa nafanya kazi ya uchoraji nikiwa 'High School' na baada ya kumaliza kidato cha nne. Even when I was in primary school I believed that one day I would be on radio and so while I waited to further my studies in broadcasting, this is what I used to do and I can still do it. It's in me, believe you can achieve, work hard and love what you do and one day your dreams will come true!" Mzazi disclosed.
Larry Madowo who is one of the biggest names in Kenyan TV thanks to his ability to cover all manner of topics, from pop culture to technology to business also started from the bottom.
Before the fame and success, Madowo experienced a lot of hardship as a child after being orphaned by the age of 14. This shaped the person he is today "When you grow up with almost no privilege at all, you learn to appreciate the small things," he told CNN during an interview.
The NTV news anchor revealed that when he finished high school he sold mandazi and tea at Gikomba market to make ends meet.
"My first job straight out of high school was selling tea and mandazi at Gikomba," he said during a shoot with CNN shoot at the busy market.