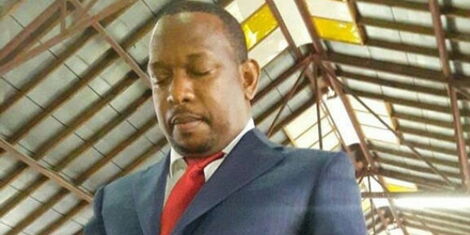 There was drama in the Senate on Wednesday as Nairobi governor Mike Sonko momentarily halted a meeting with the Devolution Committee to head to the washroom.
The governor who was attending the meeting to address queries over the composition of his county executive said that he was immensely affected by the electrocution he suffered at JKIA last week.
The governor had just arrived from London and decided to use the bathrooms at the Airport. Through his Facebook page, revealed that the incident happened as he was relieving himself in the airport's urinal. 
He disclosed that should the electric shock interfere with his reproductive organs, he would sue the Kenya Airports Authority (KAA).
"Nimepigwa shock kwa machine nikinyoraa (I have been electrocuted while urinating). If I fail to sire more babies I will sure KAA," Governor Sonko posted.  
He protested the sorry state of the washrooms because some stalls have live wires which are dangerously exposed.
"This is the state of our bathrooms. KAA wake up what's the point of paying millions of shillings to managers in salaries and yet they're sleeping on their jobs," Sonko lamented.
He called out a worker and his supervisor who were in the washrooms and asked why the facilities were poorly maintained, adding that it was the second time he was raising the issue. 
Sonko also compared the ablution block to those in Nairobi streets, arguing that the City Council managed the toilets better.
"Kwa nini hii choo, na hii ni international arrivals, kwa nini lazima ushikanishe wire ndio maji itoke (Why do urinals serving the international arrivals terminal have to be flushed by manually connecting the exposed live wires)?" Sonko posed to the Supervisor.