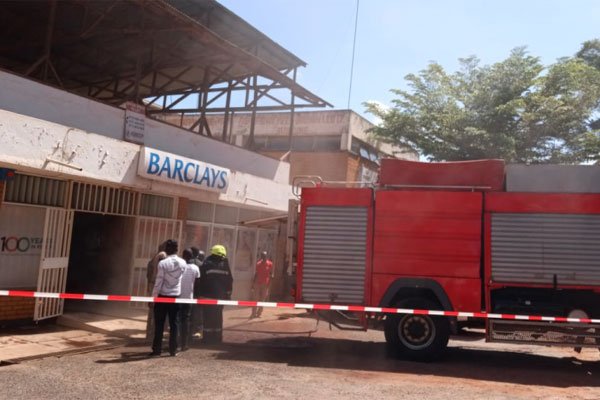 Barclays Bank Murang'a branch on Monday afternoon suffered damages worth millions as a huge fire razed down a section of the building.
According to eye witnesses, there was a foul smell emanating from the bank.
A witness who works at a law firm next to the bank, told the Nation that huge smoke coming from the bank at about 1pm.
"I was in the office when we noticed a foul smell and after it persisted, I switched off the electricity and came out of the office. I later learnt that the smoke was coming from the bank," she said.
This comes after the bank witnesses several scandals and incidences that have rocked the country for the last two months.
Just recently, the embattled bank was on the spot reports that over Ksh.11 million was stolen from three Barclays Bank ATMs at different locations in Nairobi.
Police said that Ksh.6.29 million was robbed from an ATM at Mutindwa area, Ksh.4.315 million at Kenyatta National Hospital and Ksh.1 million at Mater Hospital.
A police report indicated that the surveillance camera at Mater Hospital had been smeared with petroleum jelly to obstruct view.
At Mutindwa area, police said they established that the ATM is not covered by CCTV cameras and is also not manned by any guard.
Last month, the bank suspended the safe box service after police found the highest amount of fake currency and gold stashed in two safe deposit boxes at Queensway branch in Nairobi.
The bank says it reached the decision to suspend the service due the emergence of new financial crime risks associated with its use.
"As an extra precaution, we have taken a decision not to take any new safe deposit boxes and are working with our clients to review the existing safe deposit boxes," Jeremy Awori Barclays Bank Chief Executive Officer said in a statement to newsrooms.
Kenyans now believe that the bank may be cursed with such bad news hitting the headlines daily.
Here are some of their reactions;
What is it with Barclays Bank?Ama ni nukshi tu iko nayo?!— Wasonga Michael (@Mike_Wasonga) April 22, 2019
I would be a very worried man if I had any coin in @Barclays_Kenya, so many things just seem to be going wrong— Anthony M. Macharia (@tonymwasi) April 22, 2019
Arror and Kimwarer Money just cant keep Quiet inside @Barclays_Kenya ?— MØSƩS (@morsecodeX_) April 22, 2019
The only thing that will burn is evidence. Not money. This is Kenya— Omar Bond (@AstronautKE) April 22, 2019