Kenyans have heaped praises to the robbers who broke into  ATMs belonging to Barclays Bank in South B and Buruburu,making away  with over 7 million shillings last night.
According to the police,the two ATM outlets were raided by the thieves and wiped out clean at around past midnight,an incident that has excited a section of the public.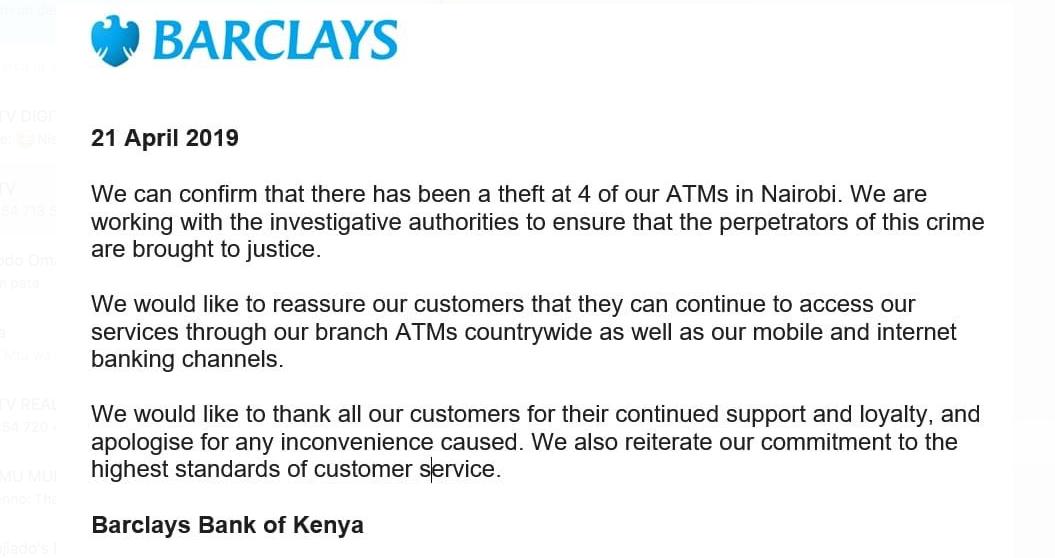 Most Kenyans on social media supported the robbers,saying what they had stolen was nothing compared to the total sum politicians and leaders in government have stolen from the public. In fact,some argued that the robbers only took what was theirs before it could get in the hands of state robbers,clad in suits and ties robbing poor citizens every day in their government offices.
Here are some of the comments fetched from Kenyans on social media:
That's great! Those are good hardworking citizens.

— a looter continuerer… (@akero_vitalis) April 21, 2019
The more problem we are facing.the more brave we think to get https://t.co/WJto028eHN awa youth before is too late.

— Oliver mwengu (@snifferchizzo) April 21, 2019
Can someone please give me procedures of stealing this money.
I think am the only one who is behind in this😂😂

— Kisang Alex (@kisang_alex) April 21, 2019