On February 8 2018, Jimmy Wanjigi claimed that Nation Media Group was used as a messenger by powerful forces "perpetuating in justices" in the country to pass a death threat to him.
The businessman was speaking when he sued the Nation Media Group over the publication of his obituary on the Daily Nation newspaper of February 7, 2018.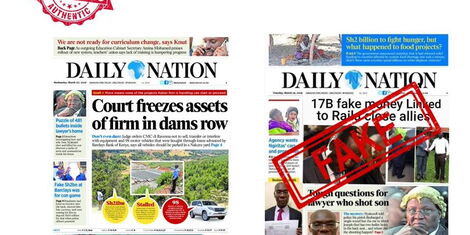 A yea later , Jimmy Wanjigi and his wife Irene Nzisa have threatened to sue The Nation newspaper over a report which linked them to land fraud. Through a law firm Otieno Ogola & Company Advocates, the two in a letter dated April 17 demanded the publisher withdraw the article from all its platforms, make a public apology and submit a settlement proposal befitting the damage they claim the article has caused them.
If the Nation Media Group (NMG) fails to adhere to their conditions, the Wanjigis warn that they have instructed their lawyer to institute formal legal proceedings.
"The said publication, in any event, is false and factually inaccurate. Our clients have never been involved in the alleged acts that you have indicated in your article.
The article also does not accurately cover the alleged proceedings instituted before the Environment and Lands Court," reads the letter.