A police constable is nursing injuries to his arm which he claims were sustained following an assault by his colleagues at Kanyonyoo Border Patrol in Machakos County in an incident which Class Eight girl was involved.
In a statement filed at Masinga Police Station, Police Constable identified as Daniel Mbaluka, on Thursday reported that he was also forced to sign a document retracting an earlier statement implicating the two officers.
Mr. Mbaluka and his cousin, Benjamin Nzomo, sued the two police officers who allegedly assaulted them after they busted them with a Standard Eight girl in a hotel at night and demanded an explanation from them.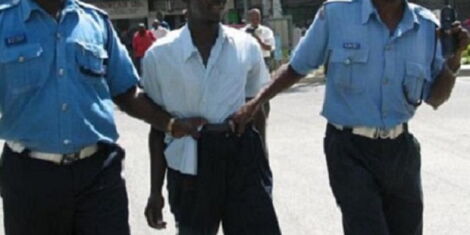 The 14-year-old girl who was on holiday in Musingi Village had been missing for 2 days according to Mr. Mbalukas statement.
Mr. Nzomo has also injured near his the right eye while Mr. Mbaluka sustained injuries on his right hand, according to the statement recorded at Masinga Police Station dated April 9, 2019.
Mr. Nzomo said he rushed to the market and, on arrival, found her seated with the two officers.
"I found [her] seated with two police officers attached to Kanyonyoo Border Patrol. I was with Daniel Mbaluka. Mbaluka started interrogating the two police officers. He asked them what they were doing with a pupil that night, "Mr. Nzomo wrote in the statement.
He said one officer warned them that they were going to "do something to them". although it remains anonymous what that ' thing' could be
The two officers left the hotel and later came back with other officers after about twenty minutes. They started beating up the two men and handcuffed Mr. Mbaluka before taking him to their camp.
According to a resident of Musingi who called an ambulance to take the two to hospital, the officers who also appeared drunk chased away residents and the ambulance driver, threatening to arrest them for interference.
FORCED STATEMENT
"They carried the injured and bleeding victims to their camp and started beating them again [and forced them] to sign a document indicating they won't pursue any case against them before they were released," said the resident, adding that the victims had been threatened and intimidated by police and were afraid to tell the whole truth.
He said the officers camping in Musingi village on the Kitui County side are a menace to schoolgirls and families in the vicinity and should be moved.
The girl found with the officers, who is an orphan, has also recorded a statement with the police.