A catastrophic fire has engulfed the upper reaches of Paris' soaring yet iconic Notre Dame Cathedral as it underwent a multi-million dollar renovations Monday.
The inferno threatens one of the greatest architectural treasures(800Years old) of the Western world as tourists and Parisians looked on aghast from the streets below.
The moment #NotreDame's spire fell pic.twitter.com/XUcr6Iob0b

— Patrick Galey (@patrickgaley) April 15, 2019
The blaze collapsed the cathedral's spire and spread to one of its landmark rectangular towers, but the city's mayor later said firefighters were optimistic they could salvage the main towers from the flames.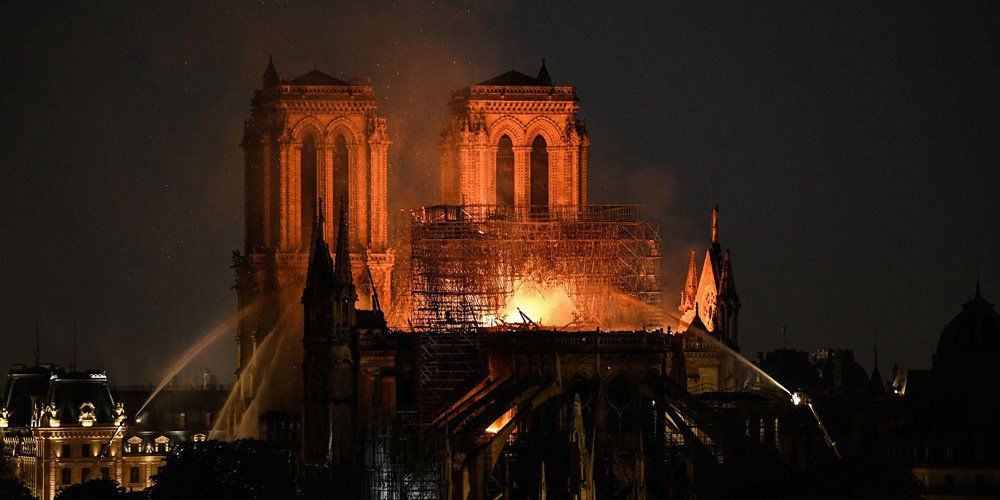 The 12th-century cathedral is home to incalculable works of art and is one of the world's most famous tourist attractions, immortalized by Victor Hugo's 1831 novel "The Hunchback of Notre Dame."
Here are some breathtaking images of the Notre Dame before today's tragedy. #NotreDame pic.twitter.com/CswUTLXHo5

— garlic bread emoji (@litgarlicdad) April 15, 2019
The cause of the blaze was not known, but French media quoted the Paris fire brigade as saying the fire is "potentially linked" to a 6 million-euro ($6.8 million) renovation project on the church's spire and its 250 tons of lead. Prosecutors opened an investigation as Paris police said there were no reported deaths. Some 400 firefighters were battling the blaze well into the night.
Flames shot out of the roof behind the nave of the cathedral, among the most visited landmarks in the world. Hundreds of people lined up bridges around the island that houses the church, watching in shock as acrid smoke rose in plumes.
UPDATE: #NotreDame towers have been 'saved' from the blaze, French firefighters believe

STORY: https://t.co/1N5cR2NbT3

VIDEO: Spire collapses as fire ravages Notre Dame cathedral pic.twitter.com/CVTIkAn0dX

— RT (@RT_com) April 15, 2019
The fire came less than a week before Easter amid Holy Week commemorations.
As the cathedral continued to burn, Parisians gathered to pray and sing hymns outside the church of Saint Julien Les Pauvres across the river from Notre Dame, as the flames lit the sky behind them.
People in Paris are singing in the streets near the Notre-Dame Cathedral as firefighters continue to try to put out the fire pic.twitter.com/07133ste73

— TicToc by Bloomberg (@tictoc) April 15, 2019