A witness has shocked a court after revealing that former KTN presenter Esther Arunga appeared bewitched days before the death of her son Sinclair in Australia.
The witness said that Ms Arunga appeared bewitched and made comments about zombies invading the world and eating people.
The witness was testifying in Brisbane magistrates court in a hearing against Mr Quincy Timberlake, who is Ms Arunga's husband.
"She talked about voodoo and other occult stuff, it was crazy," said Christina Caroll, adding she was told the information had come from Timberlake.
During the hearing, Ms Caroll said she had known Ms Arunga before her husband arrived in Australia.
Ms Caroll, a medic, told the court that she noticed 'straight line cuts' on Sinclair's forehead a day or two after Ms Arunga and son returned from visiting Timberlake in Singapore.
"To me it looked like he'd been cut with a razor or a knife," she told the court, adding that the cut was discolored like it had healed.
When she asked Ms Arunga what had happened to her son, she was told the boy had fallen down the stairs.
However, Ms Caroll – who has a 25 years' experience in the medical world –  believed the wounds had been inflicted.
Another witness, Gertrude Marutawana, said she observed "quite a number" of criss-cross scars on Sinclair's back during a visit to Timberlake's home.
Ms Marutawana said Ms Arunga told her she had been accused of being a witch in Kenya and as punishment they had beaten her son.
The court also heard from Deborah Stanley, who claimed Timberlake verbally abused her over the phone before he arrived in Australia after she started teaching Ms Arunga about the Bible.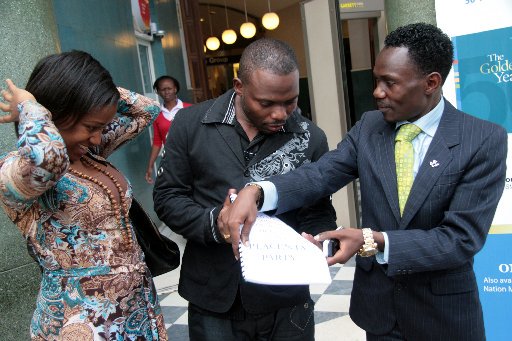 Ms Stanley said he was acting like a crazy and unhinged person.
"He was swearing at me, yelling at me, calling me names and telling me that I was trying to turn his wife against him," she said
"He said Esther was under his control and she would do whatever he would say."
Several witnesses also gave evidence of their concerns on Timberlake's mental health after his arrival in Australia.
Collette Barry said Mr Arunga came to her church in July 2014 where she said her husband had "hurt Sinclair".
The hearing will run to Tuesday next week.