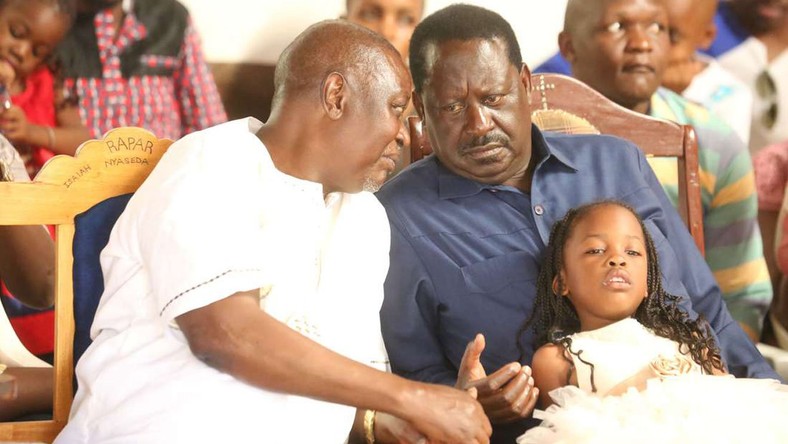 Raila Odinga's elder brother OBURU ODINGA wants RAILA Odinga to walk out of the handshake with President Uhuru Kenyatta.
Most Kenyans have wondered:
What's the difference between Raila and corruption?
Why are Odm counties not doing well and no one is being reprimanded?
He has been fighting this corrupt individual, now supporting him!!!
Post election
More than 30 people lost their lives in the post elections 2017 but Raila ignored them.
They lost their lives fighting for him. Raila should not be trusted embracing the handshake, something is cooking under handshake.
Oburu Odinga
His older brother Oburu Odinga has urged his younger brother to walk out of Jubilee and President Uhuru Kenyatta citing corruption on one of the reasons:

"If Raila continues to stay in an environment where corruption is sustained and condoned, in an arrangement where corruption is abetted and entertained, it will not be good for his personal image,"
In what caught many politicians unaware, President Uhuru Kenyatta reconciled with Raila Odinga and the two are said to have signed an MOU where ending tribalism and corruption was largely elaborated.
But Dr Oburu, who brokered the deal, now says the deal could hurt his brother's fortunes due to escalating corruption in government. Throughout his career, Mr Odinga has stood out as an anti-graft crusader.
"The corruption war should be sustained and if there any signs of reluctance to continue with the war on graft when it was the cardinal principles of the handshake then i do not think he (Raila) should be comfortable staying in the arrangement," he said.
"I do not know if he has such thinking. I have not consulted him, he is the one who did the handshake and he is the only one who can consider withdrawing," said Mr Oginga.
Kenyans have echoed the remarks made by the older brother during the rally.
Here are some of their thoughts:
Some Kenyans aren't supporting his remarks