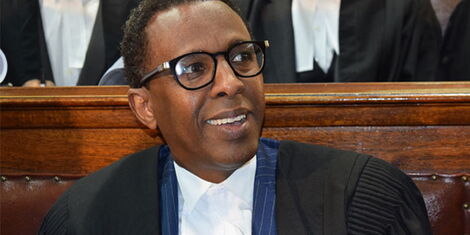 Following a court of law setting bail at Ksh 100 million for Samburu Governor, Lawyer Ahmednassir Abdullahi has claimed the act shows two things:1. That the magistrates is plainly incompetent and must be removed from office or 2. He is playing to the public gallery and is thus not exercising decisional independence..
Users took a swipe at Ahmednassir saying that he was tweeting this for personal reasons.
"So you didn't get chance to officially represent him in court. You are now using unorthodox means to join the legal team. You are part of the system we need to get out. You are corrupt," Rian said.
David tweeted saying, "Am pretty sure the judge didn't break any law, he was just exercising his discretion…same way some judges give anticipatory bail of 50k for someone who has looted 100+ million. SC unless you are trying to rope in a client, this is one order that Kenyans are happy with for once!"
Samburu Governor Moses Lenolkulal has sought a review of the Sh100 million bail terms given a day after denying graft charges.
Lenolkulal was on Tuesday charged with four counts of abuse of office and conflict of interest leading to the loss of Sh84.6 million public funds.
"The accused is greatly aggrieved by the said terms which are completely outrageous and unprecedented," his lawyer Paul Nyamodi told the court on Wednesday.
Nyamodi, in his application, said the terms go against the bail and bond policy.