Machakos Governor Dr Alfred Mutua has come under intense pressure after it reports revealedd he was 'forcing' residents to register with the on-going Huduma Namba bimetric registration.
Machakos County Governor, Dr Alfred Mutua has denounced rumors that his county was looking to force its staff to undertake the Huduma Namba registration by withholding their salaries.
Absolving himself from the allegations, the governor elaborated his grand plan to ensure mass registration instead.
"By it being launched in Machakos County, the general awareness has already been created. The govt has set up village-based teams, where people are given the opportunity to register," he revealed.
Voluntary process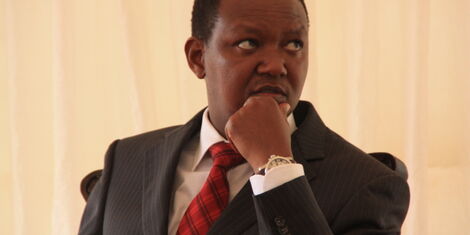 Mutua explained that the entire registration exercise is legally on voluntary basis as confirmed by the High Court ruling made on April 1, 2019, thus denouncing claims that his county was implementing the exercise forcefully.
"It's a choice, we are not forcing anybody. I'm very obedient of court rulings and I respect it (court's decision)," he asserted.
Governor Mutua went on to explain that the county's approach would be hinged on moving from village to village to convince his constituents of the importance of signing up for the Huduma Namba.
"So, I'm going to ensure it is choice based and that people can be convinced and persuaded to see its importance," he added.
He went on to reveal that the county was targeting to have the largest percentage of registered people in the country based on the county's population.
Use experience
Mutua revealed that they'd use the networks and experience gained during the Universal Health Care (UHC) registration exercise to boost the newly launched Huduma Namba registration exercise.
The UHC registration processed had captured at least 1.2 million Machakos county residents.
President Uhuru Kenyatta had led the launch of the registration exercise in Masii, Machakos County on Tuesday, during which Governor Mutua was taken through the process and registered.
Was the governor quoted out of context or is this a media fabrication? Let us know in the comments.