Living in Nairobi requires a tough heart. Everyone has own way of survival. There are 'smart' Nairobians who survive by depending on others illegally. You will get to know them mostly is you are new to the city.
KTN presenter, Lofty Matambo, narrated during an interview how hard he found it to survive in Nairobi after he landed from Mombasa. He talked of how he was robbed twice at gunpoint before he got used to Nairobi life.
He said; "Moving to Nairobi was not easy as I had heard very negative stories about the city, especially on robberies. After relocating to Nairobi, I used to stay in Kayole and was twice robbed at gunpoint.
The first incident happened on a Sunday as I was leaving a friend's house. After leaving church on that day, I went to his house and stayed till around 9:30 pm when I decided to head home." He decided to take his chances as the area had streetlights. However, after reaching a dark stretch of the road, Matambo came face to face with armed thugs.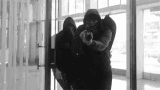 "They caught me and threw me onto the ground before pointing a gun at my head. They made away with Sh500 but left my briefcase which only had a Bible."
The second robbery happened as we came from watching a football match with friends. Four very young boys armed with guns suddenly appeared cocked their guns before ordering everyone to the ground; "I could feel the cold barrel of the gun pressed against my temple. Being the second time getting robbed at gunpoint, I was not as scared. They took our phones and left but gave us back the sim cards."