An embattled Cabinet Secretary(CS) has sensed his impending ouster only days before President Kenyatta's state-of-the-nation address next week Thursday.
CS Mwangi Kiunjuri, who has been on a rough path with President Kenyatta on a number of occasions opened up to a vernacular radio station that some harsh statements against him were still haunting him.
Thursday mass sacking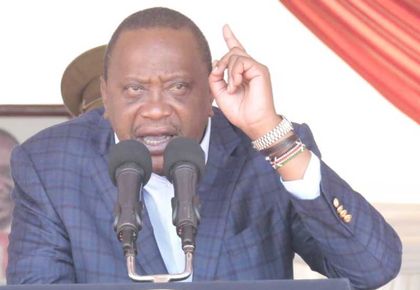 As investigations soar, there is speculation within intelligence circles that President Uhuru Kenyatta will use his State of the Nation address on Thursday next week to ask all Cabinet Secretaries and Principal Secretaries embroiled in various scandals to step aside until they are cleared.
President Kenyatta used a similar occasion on March 2015 to direct five Cabinet Secretaries to step aside after their ministries were caught in corruption scandals.
The five were Ms Charity Ngilu (Lands, Housing and Urban Development), Mr Felix Koskei (Agriculture), Mr Michael Kamau (Infrastructure and Transport), Mr Davis Chirchir (Energy and Petroleum) and Mr Kazungu Kambi (Labour, Social Security and Services).
Ugly confrontation in Namibia
Agriculture CS Mwangi Kiunjuri finally spoke about the awkward events that marked President Uhuru Kenyatta's Namibia trip
"The mention of Namibia still gives me goosebumps," he cut his explanation short.
"You were not writing notes we saw," the presenter told Kiunjuri who was also quick to go back to his explanation. 
During the Namibia trip, Uhuru wasn't too pleased that Kiunjuri didn't write down what various speakers had said.
"I see my brother Kiunjuri has just opened his notepad to write what I'm saying. He was not interested in writing what these Kenyans were saying.
"Maybe it's because it had nothing to do with Agriculture. He forgets he is a Minister of the Republic of Kenya," stated Uhuru.
The president also put Foreign Affairs CS Monica Juma and Trade CS Peter Munya as well as his long-serving PA Jomo Gecaga on the spotlight.
He went on to state that the team relied on him to remember what was said at various meetings. In instances where the president couldn't recall, then the information would be gone with the wind since no one bothered to take notes.