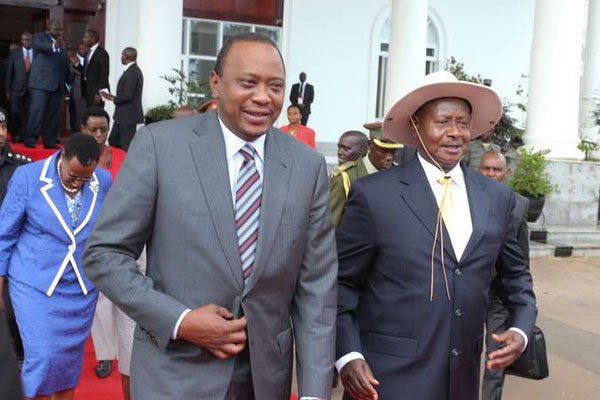 Uganda President Yoweri Museveni is on a two day visit to Kenya and some people are wondering whether his advisers told him anything about the extremely hot coastal climate.

Did President Museveni handlers advice him Mombasa City is very hot n he should be in his favorite oversize White Shirt or rather White Tent. pic.twitter.com/T8asSgWiXj— Thomas ™🇰🇪🇷🇼🇺🇬 (@thomskan82) March 27, 2019
Museveni landed at the Moi International Airport in the morning dressed in an awkward over-sized coat and his iconic hat. Kenyans were quick to claim that it could be because Uganda is landlocked.

According to the weather forecast, it is 33 degrees in Mombasa and the dress code of any person visiting the place is likely to be light clothes as compared to a full suit.
President Uhuru Kenyatta who wore a white linen shirt and a black trouser.
You can't blame Kenyans, we find fun in everything and this was our moment of shining.
@BridgetMburugu said "How will "President Museveni" survive in coast for two days in suit and tie."
"Someone tell Museveni that even if you don't have a coast when visiting Mombasa you dress in bright colours," @SurveyorOhato
@s_gidy said "Really Museveni ……? Dressed like that….? …in Mombasa…..?"
"Koti na hiyo joto yote ya coast," @Johnte_83 said.
@EdwardKCheruiy1 said "Sir, take off off your blazer and tie please. It's 32 degrees Celsius."
"Your Excellency Mombasa today is 33 degrees kindly remove your suit and the cowboy hat you will be boiling , Fire your wardrobe manager today," @gamollo89 said.
But the Ugandan leader was forced to remove his coat as he was pictured later without it.
Well, that is Kenya for you!