Agriculture cabinet secretary Mwangi Kiunjuri is the latest victim of Uhuru's mood swing.
While addressing Kenyans living in Zambia,,Uhuru wondered why Kiunjuri wasn't taking talk points an indication he isn't serious with what is being discussed.
Kiunjuri had accompanied Uhuru as Zambia celebrates the freedom day.
Uhuru was accompanied by Mwangi Kiunjuri (Agriculture), Monica Juma (Foreign Affairs), Peter Munya (Industry) and James Macharia of roads.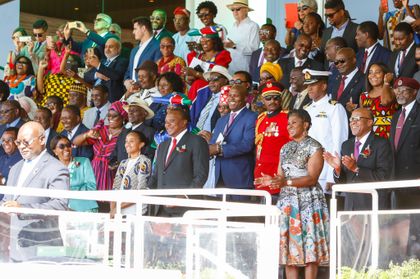 a video circulating online of Uhuru scolding Kiunjuri and his colleagues with Uhuru accusing the former Laikipia MP of ignoring Kenya's concerns.
"Just look at that, my brother here Kiunjuri is now taking notes. He never bothered to do so when you were raising concerns. Just because you didn't address his docket, he didn't see a reason to right. And remember, he's a government minister," Uhuru said.
He adds: "Just like him, even madam Juma (Monica). She's just sitting. My long-term PA (Jomo Gechaga) is also looking at me. They expect me to remember everything. He's only interested in time keeping."
Last year during Nairobi International Trade Fair, Uhuru scolded Kiunjuri in public over the predicaments of farmers across the country. He even threatened to fire him over laxity.
Days later, at Bukhungu stadium during Mashujaa Day, a furious Uhuru also wondered why the Agricultural ministry had taken a lot of time to pay maize and sugarcane farmers. He also threatened to take an action.
Over the last two years,Uhuru has been on record threatening his top officials for laxity.