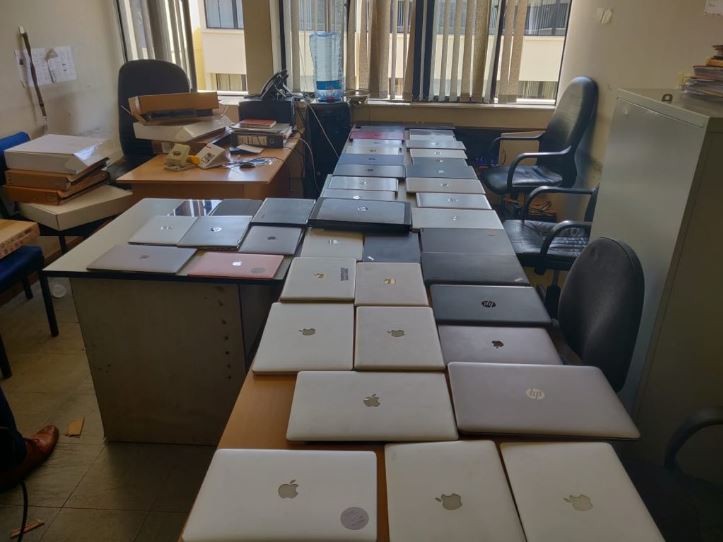 Directorate of Criminal Investigations  (DCI) have announced that police had dismantled a laptop theft syndicate dealing in stolen laptops with several electronics and laptops recovered.
DCI wrote that "Yesterday, Serious Crime Detectives recovered several assorted Laptops from a shop at Kimathi House. This was after a stolen Mac book was traced to the shop. One suspect arrested. We appeal to members of public who may have lost items to come to OIC #SeriousCrimeUnit & identify."
DCI detectives also nabbed the infamous Kilimani 'Spiderman' at Greenhous building along Ngong road with several other stolen items found in the building.
Mr. Michael Joseph Otieno Odhiambo alias 'Spiderman' was found in possession of pliers, a cutter, a hacksaw and a ransack bag.
Police also recovered several laptops believed to be part of items stolen by Spiderman.
The suspect earned the name as a result of his prowess in scaling walls of apartments moving effortlessly from one floor to another to gain entry.
Last month, residents of the posh Kilimani and Kileleshwa raised alarm as Spiderman reigned terror, leaving residents reeling in shock and police moving in to capture the elusive burglar.
Between 07-10 February 2019, Spiderman is reported to have stolen a foreigner's gun and a safe loaded with money from one of the houses he broke into.
His antiques which were captured on CCTV cameras left residents reeling in shock with one of his victims fall ill and had to be rushed to the hospital following the shock at finding out that someone was in her house without her knowledge.
One of the affected victims whose houses were broken into had accused her house help of stealing her safe and even reported her to the police at Kileleshwa police station.
"She kept on insisting she was innocent. We decide to retrieve the CCTV footage only to see the man climb floor after floor," an office manager stated.