State House Secretary of Digital Communication Dennis Itumbi is well known for PR stuns however his latest stun has totally flopped.
Itumbi took advantage of the ongoing Famine crisis to create PR stun by lying to Kenyans how DP Ruto's wife has come to their aid by donating food stuffs.
However Itumbi was forced to apologize after he was attacked by Kenyans who realized he was using outdated images.
"I apologize for images I shared here earlier. Mama Rachel Ruto was not in Turkana. I relied on unverified images. This was my mistake and I am sorry. I have since deleted them. May the record reflect the true position and my apology too. Jioni poa." he apologised later through a tweet.

Earlier Itumbi shared images of Mama Rachel Ruto allegedly donating foodstuffs and detergents to victims in Turkana and Baringo on twitter.
His tweet caused a storm on social media leading to individuals identifying the error on old images. It later emerged that Mama Rachel Ruto had attended another event and was neither Baringo nor Turkana.
The images were unveiled to have been tweeted by Dp Ruto's wife five years ago on April 2, 2014.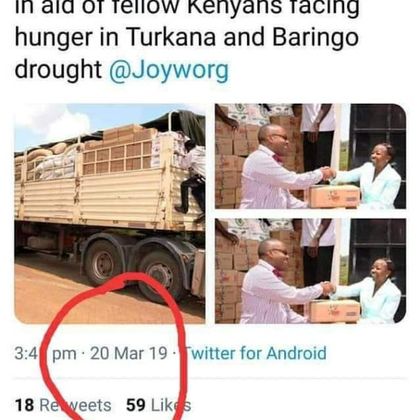 "Receiving famine relief food from the Directorate of special programs for families facing starvation in Turkana," his tweet read.
Itumbi later deleted the tweet which seemingly meant to boost Mama Rachael Ruto name in the public. Itumbi who seemed to take advantage of the Kenyans suffering in pain over drought risks being sacked.