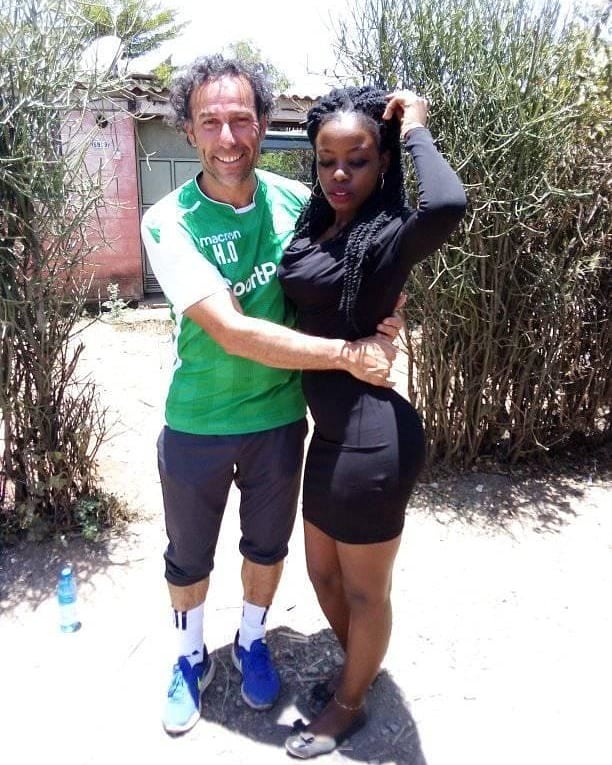 Hassan Oktay, will go down in history as the first Gor Mahia coach to take the team to the quarter finals of the prestigious, CAF Confederations Cup. This is no mean achievement for a man who was first appointed an an intern.
But it seems he is not only delivering on the field but also away from it. A picture has surfaced on social media of the Cypriot Coach posing with a damsel, who from the look of things is only a Luo.
For those who don't know, hii ndiyo inaitwa figure 8. This girl was created immediately God had come from tea break. Yaani Mungu hakua na haraka.
Kiuno iko sawa, alafu venye kamejishika, kanakaa tu snack!
Looking forward to a human being with Turkish-English-Kenyan origin…

😂😂😂😂😂😂— Hopeful Leopard (@stanoambeyi) March 21, 2019
Hii ni camp ingine sioni uwanja naona tu mlango ya nyumba— Dess otieno (@OtienoDesmond) March 21, 2019
Oktay replaced Dylan Kerr, a fan favorite who ran to South Africa, just before the beginning of this season.
Fans didn't give him a chance after struggling in his first few matches. But he soon proved all others wrong as he set the team to play his football.
And on Sunday, he made history as he led a 9 man Gor Mahia into beating Petro Atletico and storm into the quarter finals.
Oktay is an aggressive coach who defends his players at all costs. This has landed him in trouble with match officials and he was red carded during Sunday's match.
He will therefore not be on the bench when his team takes on Morocco's Berkane in the quarters.
Oktay, can make history if he marries this slay queen and fathers a small Onyango Oktay