An interesting twist has taken root in the Ekeza sacco drama where man of God Dr Gakuyo is accused of defrauding members of a sacco a huge chuck of funds.
On Monday the police had to lob tear gas to disperse members of the Ekeza Sacco who were holding demos protesting misappropriation of funds by Sacco officials.
The DCI had scheduled sessions with Nairobi and Kiambu residents who thronged their headquarters this morning with fraud complaints against Gakuyo Real Estate, Ekeza Sacco and Gakuyo Investment Club.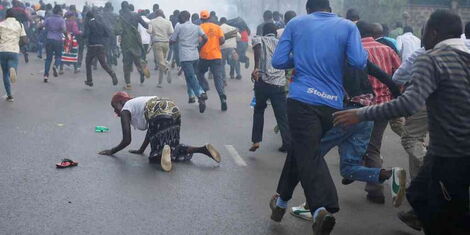 The more than 50 members chanted "Haki Yetu" as they protested in the demos which turned chaotic at the DCI premises.
Well now the tables have turned and the men on the streets are singing,'We stand with Gakuyo'
Protesters defending Gakuyo have stormed the roads with banners printed on the words;"Walichoma soko ya Makongeni, Wacha kuchoma Dr Gakuyo!!..Stop crippling his business for political gain!!!"
From the messages, they claim Gakuyo is being attacked for political gain that is crippling Gakuyo's business.
Kenyans have however expressed over disappointment on the protesters.