Kapseret Member of Parliament, Oscar Sudi, has come out with a scathing attack on President Uhuru Kenyatta in his latest remarks.
The rift within the ruling party took another hit when a video shared by Daily Nation showed Mr Sudi openly calling out the president.
In the video, the MP is visibly angered and goes on to ask President Uhuru to come out and declare his support for Raila Odinga in 2022.
"Utuambie, acha kutudanganya, (tell us, don't lie to us) we are not fools, we are not kids, we reason like you, we can see, tutangazie kama unasupport (declare your support for) Raila in 2022, we have no problem," he retorted.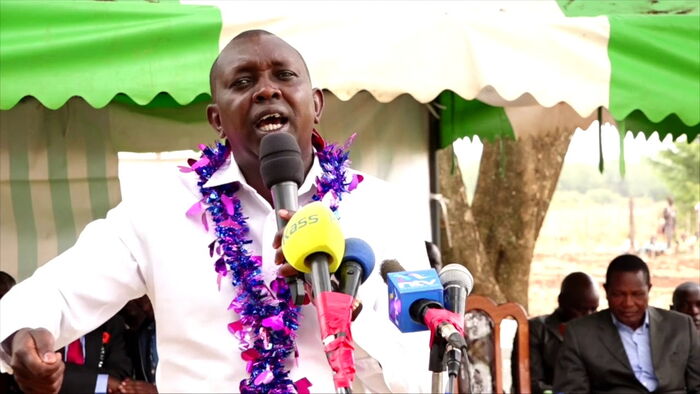 The vocal MP went on to accuse the president of using the government to persecute his deputy, Dr William Ruto and the Kalenjin community.
"Wacha kutumia serikali, acha kutumia mkono isiyoonekana," loosely translating to stop using the arm of the government, he asserted.
During his fiery address, the MP seemed to lose himself in the heat of anger, cutting himself short just as he appeared to confess to rigging during the elections.
"Usikuje kutumia waKalenjin, wakakuibie hapa, wakapiga kura," loosely translating to "don't use us Kalenjins, to rig and vote for you," he blurted out before switching to a different line of conversation.
Mr Sudi went on to claim how the highly publicised dam scandal was a mere tool used to bury DP Ruto politically.
The Kapseret MP also made it clear to the president that they would not beg him for his support.
"Na hatukubembelezi, tulikupigia kura, hii serikali tutagawa (we are not begging you, we voted you in, we are going to split this government)," he asserted.
His latest remarks come barely weeks after he accused the President and ODM leader, Raila Odinga of acting holier-than-thou in the war on graft yet their families too had been mentioned in the past.
This statement angered Uhuru so much that he responded by telling his detractors to present any evidence they had against him to the Directorate of Criminal Investigations (DCI).