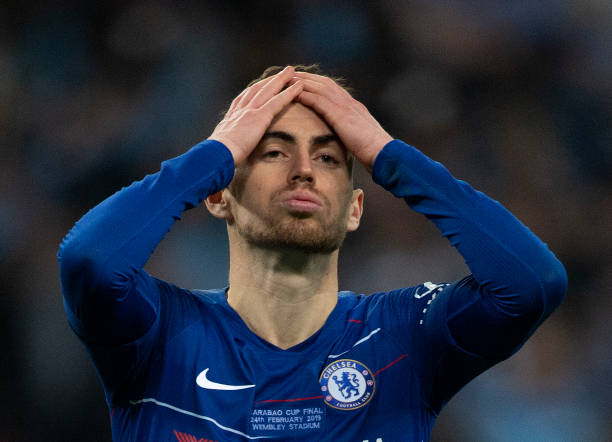 Pundits (and a lot of fans) show a big sign of shortsightedness when they analyse Jorginho's performances, they assess him as you would assess a midfielder in any given team. However the way Sarri brought him with him to the club and his unwillingness to drop him and switch Kante into his position really shows that, whatever he is doing, he is doing okay at worst.
His job in the first half of the season was simple, but yet misunderstood: to allow other players to play well by always giving them a "bail-out"-passing option. Think of the conductor of an orchestra (overused analogy, I am aware but it links well to this case):
To the trained eye, his work is key and often on point, to the untrained eye, the conductor might not even have to be there. Back to Jorginho though, his positional awareness is what makes him such a vital cog and that only works when you're in the center of the pitch, both laterally and longitudinally.
When you operate there, you are rarely in dangerous areas simply because that's not his job, hence you will not get those final passes/shots as often. An interesting stat to look at should be not his pass completion rate, but the difference of pass completion rate of the nearby players like Kante, and the back 4 when he is present vs. when he is not.
Jorginho's positional awareness allows him to always be in a safe area to receive the ball and he makes up for his poor ball protection skills by making his mind up very quickly to make a pass. So yes, he passes backwards a lot but that's because the opposition try to specifically press close him down, and a backward pass means the closing down has failed and, provided that the player receiving the ball makes a forward pass, the player that was initially trying to close Jorginho down is out of position, that's how Jorginho's position acts not only like a pressure-releaser, but also as a closing down trap (a decoy, in a way)
That doesn't mean that Jorginho is a finished product, long from that in fact: analyzing Jorginho's performance this way, one can also see and truly enjoy the skills of Fabregas too because, given 3-4 years less than his actual age, he was even better than Jorginho (equal in quick-thinking, positional awareness, but with even better mid to long-passing ability). The Brazilian-born Italian therefore should look into to match Fabregas' skills. Cesc was allowed to operate both deep and in the final third (which is why he has so many assists), if Sarri is keen on continuing to play Jorginho in the Regista position, he has to improve his long range passing as too often it ends up beyond the running player and resulting in a goal-kick.

Finally, another important feature isn't connected to the player itself but rather to the position. You could not play that position without having to offer some defensive help. Sure Kante is there, but most times it is not enough that is not enough, especially in the Premier League. That is another area Jorginho must improve on.


In short, using assists and goals is not right to assess the performances of the Italian as he is more of the secondary assist guy and sometimes not even. While I don't promote stats for the sake of it, it's necessary to get the right numbers to assess him. Those stats in my opinion should be : Mid/Long passing accuracy, chances created, successful tackling rate, succesful take-ons, possession lost as well as the passing completion rate of the players surrounding him, instead of his.