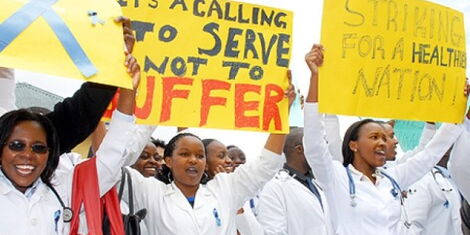 Nurses who defied the president's order of returning to work following a sit down strike that rocked across many counties are set to face disciplinary actions. All nurses who failed to report to work by Friday the 15th of February 2019 are in trouble now.
While holding talks with governors at State Lodge Sagana,President Uhuru Kenyatta said the perennial interruption of health services by strikes was derailing gains made in the sector and a solution must be found to stop any recurrence. This was the 7th National and County Government Co-Coordinating Summit in Nyeri County held ahead of the 6th Devolution Conference.
While appreciating the gains made in devolution for the past 6 years, the president urged both levels of government to continue working together in resolving the impasse that is now pitting the public health sector. Deputy President William Ruto who was also present said the devolution of healthcare had achieved a lot despite the challenges.
The Summit, which was held ahead It resolved among other things to have the conciliation process continues to its conclusion in accordance with the Court Order and all parties to demonstrate commitment. Any vacancies for recruitment of nurses arising from normal attrition in both levels of Government be filled on contract terms.
The Ministry of Labor and Social Protection was ordered to continue providing leadership in driving the process of industrial relations across all sectors in accordance with the law and the National and all County Governments find ways to fill any gaps created in the event that the 60-day conciliation window ordered by court lapses without meaningful progress.