The savanna big five is animal is facing a phenomenon resulting in deformities of tens of buffaloes who roam Aberdare National Park with vital body parts missing.
Incidents of hyenas biting off buffalo testicles and tails is an everyday occurrences but tens of buffaloes are partly deformed in the park after hyenas chewed off some parts," Ms Ajuoga said.
In south Africa, a BUFFALO who bravely fought off a herd of lions had his balls of steel bitten by a merciless hyena moments later.
The beast was left exhausted by his struggles with the big cats in Kruger National Park, South Africa.
But his battles hadn't finished.Footage taken by freelance guide Sian Green shows a hyena creeping up behind the buffalo.
It sniffs the creature's backside before going in for a bite on its genitals.Aberdare National Park KWS Senior Warden Lilian Ajuoga said the phenomenon has been going on since it was first reported in 2008.
She, however, said the incidences were linked to lack of predators like Lions within the National park. The absence of predators, she says, hampers the food chain which places hyenas out of their scavenging role.
Food chain, she says, is vital in an ecosystem in balancing the roles of wild animals.

"In this case, hyenas are forced to hunt instead of scavenging for leftovers that have been left by other predators.
This forces them to hunt on easily available things and since they lack the power to strangle, they depend on biting off hanging parts for survival," she says.
Young male buffaloes, she says, becomes the target as hyenas can easily creep, biting off the testicles and tails especially at night.
"Hyenas literally feast on prey when they are still alive because they cannot kill. In the National Park, hyenas target young buffalo bulls so they can strip off the 'loose-hanging' parts," she says.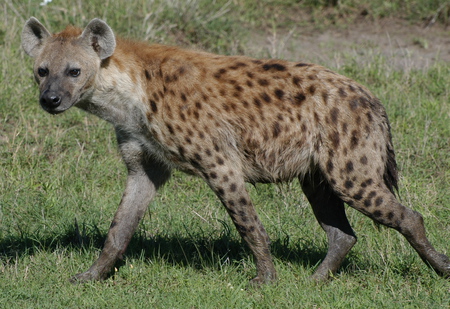 Within the National Park, she says although hyenas also hunt other small animals, their lack of speed in hunting other animals like gazelles makes buffaloes a target.
She added that the KWS would count the number of hyenas within the National Park for purposes of management and sustainability.
"We are planning on a doing an animal count so as to establish the number of hyenas for purposes of management to avoid cases of unsustainability. This will also help in boosting survival for both hyenas and buffaloes," she adds.

Introduction of predators, she says, will also balance the food chain within the National park, which will place hyenas in their rightful position as scavenges, easing their survival as well as allowing buffaloes to sire.
"We are trying to avoid the scenario where buffaloes might not be able to sire in future with their vital organs bitten off," she adds.
Kenya Wildlife Service Assistant Director in charge of Mountain Areas Simon Gitau said they are also involving researchers to shed light on what might have prompted the hyenas to bite off testicles and tails.