Kisumu Governor Anyang' Nyong'o has today faced  harsh criticism online after erecting a billboard purposely in honour of Raila Odinga's father Jaramogi Oginga Odinga who died in January 1994.
Nyong'o whose purpose was to announce celebrations for the First Kenya's Vice President 25th anniversary, shared two photos of a billboard that have been erected along the Kisumu-Nairobi highway with his image .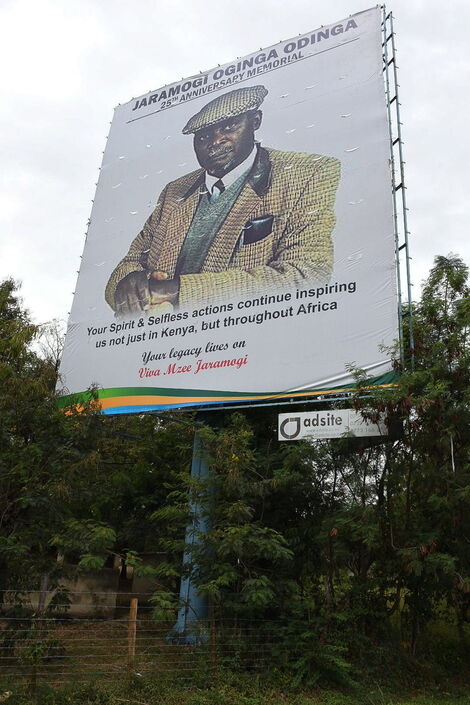 Unfortunately, this went against the governors expectations as many social media users criticized his move many citing it as irrelevant as he should be launching developmental projects.
Others faulted him for wasting the county's resources on untenable projects.
Here are some of the reactions;
@governorkibwana have just inaugurated a milk processing plant done by USAID due to the confidence he inspires, he commissioned a hospital and fruit processing plant the other day. You are advertising an billboard of ancestors. Where did we go wrong people of the lake.

— Evans Adoyo (@AdoyoEvans) February 16, 2019

how is that celebrating mzee important to the people of kisumu …our leaders long lost the vision and are now our misleaders
— keneth ochieng ogono (@OgonoKeneth) February 16, 2019
This Professor has it wrong as a Gov. What's the priority! Nothing positive development wise. Nyongo re-evaluate your stuff and give Ksm development not parties all the time. Pple need industries, water, working structures in County facilities, fishermen need support. Bure kabisa

— Oguda (@JohnOguda) February 16, 2019
How does this add value to a Kisumu resident's life.

— Andrew Ogolla (@AOgolla) February 16, 2019
Or look for medicine to remove the hyacinth in the lake, or rebuild the cotton farm which died ages this a way to eridacte poverty instead you are increasing poverty!!

— Catherine Gichuhi (@CatherineGichu6) February 16, 2019
Inspiration vs hogwash! Poor #leadership @KisumuCountyKE pic.twitter.com/0DXik6bG56

— ?????????? (@mandere) February 16, 2019

It is not the first time that Nyong'o has been attacked over links with the Odinga family.
In November 2018, the governor rubbed some people the wrong way after apologizing to the Odinga family  following the listing of Jaramogi as a land rate defaulter.