It has been hard times, trying moments and time full of uncertainties for Manchester united and its fans for the better part of the season until Jose Mourhinho was shown the door and came in Ole Gunnar Solskjaer.
It is as if the gods have given him their blessings as the Manchester United caretaker boss Ole Gunnar Solskjaer has been crowned Premier League Manager of the Month for January.
Solskjaer is the first United manager to receive the award since Sir Alex Ferguson in October 2012 when they last won the Premier League.
United were unbeaten in January, winning three of their four games against Newcastle, Tottenham and Brighton, while they were held by Burnley  Solskjaer's only draw since taking charge.
Solskjaer, who presided over three successive wins in December, has taken United to within two points of fourth-placed Chelsea, ahead of Saturday's trip to Fulham, live on Sky Sports.
Asked at his Friday news conference about his impressive start at United, Solskjaer said: "It's been a great achievement.
"The team deserves every single bit of credit – they've done it.
"But I don't look back at being proud of this and proud of that, I've never been that way, I've always looked forward and not sat down before a chapter is finished.
"I reflect, but I've never [pat myself on the back] and said, 'Well done', maybe I should do more often. But that's just me."
Ole Gunnar Solskjær says he has a "vision" of where Manchester United should be in two years if he is appointed as the permanent manager.
The Norwegian is undefeated in his 10 matches as interim manager, winning nine. Although the decision regarding who will become José Mourinho's full-time successor is expected in the close season, Solskjær can picture where he would want United to be.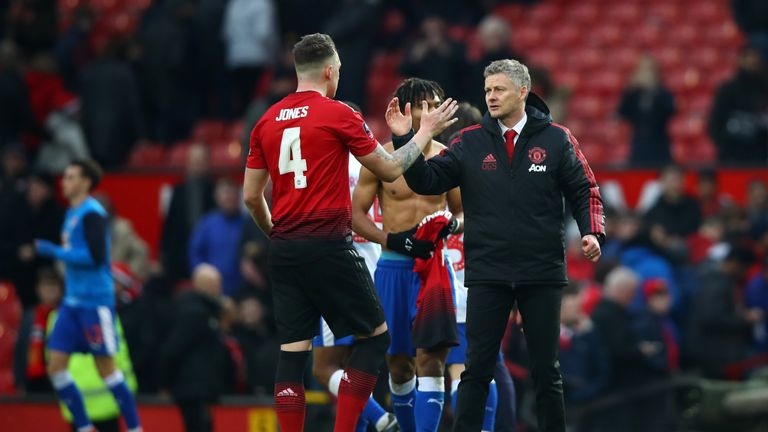 Manchester United has lengthened some of its players contracts while still releasing others. Phil Jones is one of the players who have signed a new long-term contract, and Solskjær referred to this when speaking about the vision. He said: "Every day I feel that I help the club by putting my stamp on it, but sometimes the decisions of the players' futures are not down to me either; it's the players. Do they want to stay or move on? But we have a vision and a picture of how we want to look in a few years.
"We have to think long term and also short term and I've got a picture of what this Manchester United team should look in a couple of years [and] I put my views to Ed [Woodward, the executive vice-chairman] and the club."
This vision has not changed since he took over. "I've supported and followed Manchester United for many years and I did have a clear view on what I thought my opinion would be [on arrival]. You get a different view on players but we're not too far away from when I came," he said.
If United beat Fulham on Saturday they will enter the top four for the first time since the opening weekend. "Of course you take one step at a time and that's one of the goals we've set and if we do so we want to stay there and improve on that," Solskjær said. "The last two months have been fantastic so consistency is now the key word. We have to keep on improving, keep on winning games, but in a better way than say the Leicester game [a 1-0 victory], when we had to hold on.