44 businesses located at 14 Riverside Drive were affected on Tuesday afternoon after gunmen ambushed their way into the premises.
From, banks to hotels and travel agents offices, scenes of blood, broken glass and spent cartridges was all that could be seen spewed all over the place after attack was over.
14 Riverside is host to dusitD2 hotel and Secret Garden Restaurant.
RedHouse Group, a top Public Relations company, also has its offices at the complex and so does I&M bank, Keroche industries and LG Electronics.
Below is a list of other business located at 14 Riverside:
1. Keroche Industries Limited Nairobi offices
2. Commission for Revenue Allocation.
3. Amandari Limited,
4. I & M Bank Limited head offices,
5. Dolce Cavallo,
6. AC Nielsen Kenya Limited,
7. SAP East Africa,
8. Redhouse Group,
9. LG Electronics Africa,
10. BASF East Africa Limited, 11. Colgate Palmolive (EA) Limited.
12. JHPiego Corporation,
13. Horizons Group Limited
14. Gatsby Africa,
15. Amadeus Global Travel Distribution Ltd,
16. HIP Partners Kenya,
17. Adam Smith International,
18. Quintessentially Lifestyle Services
19. Soi ranches
20. Orion Pharmaceuticals,
21. Croydon Limited,
22. Deepa Dosaja Limited,
23. Media Edge Interactive Limited,
24. Control Risks East Africa,
25. Horizons Group Limited,
26. Evonik Industries AG
27. Safari Trails,
28. Westlands Forex Bureau ExChange Ltd,
29. Genafrica Asset Managers Limited,
30. Reckitt Benckiser,
31. Fanisi Capital,
32. VISA CEMEA Holdings Limited,
33. Pernod Ricard Limited
34. Mitsui & Co.
35. Europe Plc Nairobi Branch.
36. Dow Chemical East Africa Limited,
37. Adam Smith International Africa Limited,
38. Kenya Gatsby Trust,
39. Sandawoods Limited,
40. Delors Limited
41. LJA Associates Advocates,
42. Landmark Virtual Offices Limited
43. Cellulant Kenya Limited.
44. Tintoria Limited
Interior CS Fred Matiangi on Wednesday said all buildings had been evacuated and the area remains cordoned off as it is still an active crime scene.
Earlier on, employees recounted tales of horror narrating how they had to hide under desks and inside toilets when they heard the gunshots outside.
The Australian embassy is located opposite the 14 Riverside office complex and reports have since emerged that one of their citizens was rescued from the scene.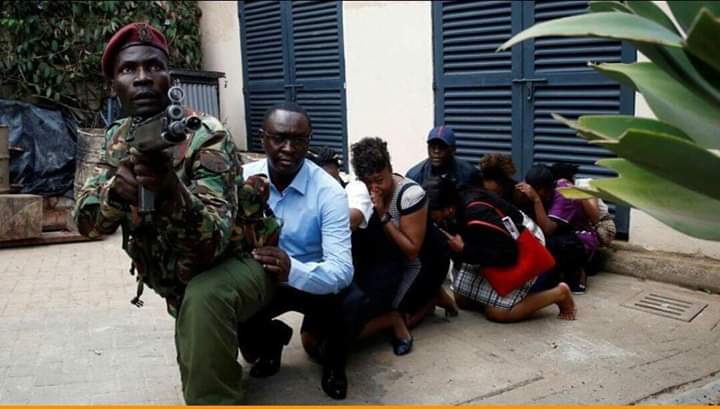 Mr. Simon Crump, identified as an employee of a public relations company, was quoted in ABC news website saying: "We were focused on getting out of there alive, being acutely aware that there were active shooters throughout the compound that we could potentially come under fire from," he told the ABC.