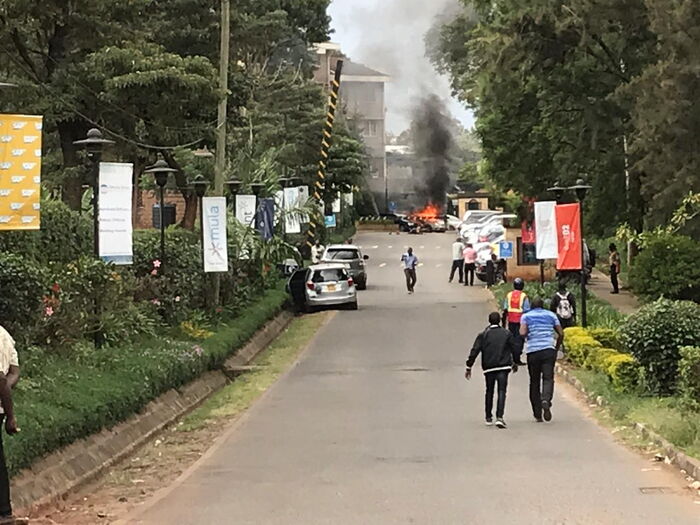 Alarm has been raised after gunshots have been heard in westlands riverside area followed by sound of rapid gunfire.
The incident took place at 14 Riverside Drive at the building housing Dussit Hotel and police officers are responding to the calls for help.
People trapped inside the buildings are reporting incessant shooting with many taking to social media to say they are holed up in several of the adjacent buildings.
"Something is Happening At ICEA Lions hapa Westlands. People are running up down. More information coming up shortly,"someone twitted.
Shootout on riverside drive with police in casual wear with automatic riffle has also been reported. "Shootout ensued after an explosion… Now 40 minutes", revealed another tweet.
So many residents have taken to twitter to reveal there fears over the incident.
Who has an idea of what's happening at Westlands , heard several gun shots and a loud explosion. Being forced to sit on the floor at the office. And updates appreciated. #KOT

— Lion Bait (@RobievsRobie) January 15, 2019
someone posted this: Guys.
We are under attack. Westgate style. At 14 Riverside Chiromo, Westlands. Spread to law enforcement authorities. Grosvenor Building. 4th Floor. Praying.

Anyone confirm.#10yearchallenege#LetThePublicBeTheJury

— Newton Sheesha™ ?? (@Newtonsheesha) January 15, 2019
Sending my prayers to everyone at Dusit in Westlands. May God protect everyone. ?

— JN SHINE (@ItsJnShine) January 15, 2019
Smoke billowing from #westlands gunshots can still be heard. pic.twitter.com/D539KeFAdM

— Oumah Onyango (@onyango_oumah) January 15, 2019