An explosion followed by heavy gunfire has been reported at 14 Riverside in Westlands, Nairobi.It was followed by a picture of a car on fire is circulating online and heavy smoke can be seen billowing from the area.
Security officers drawn from various teams including the elite recce squad have since been deployed in the area.
It is suspected that six terrorists arrived at the scene at around 3.30pm on Tuesday and soon after a bomb was detonated. Three cars were spotted on fire.
The suspected terrorists arrived at dusitD2 Hotel on Riverside Drive, Nairobi in a silver 5-seater hatchback and walk toward security officers at the hotel's gate, where they throw an explosive at the security agents.
Rescue mission underway as a man sporting a red T-shirt and black pair of trousers has been seen being moved away, with a gunshot wound in the back. He is bleeding profusely.
The National Police Service (NPS) has cordoned off 14 Riverside Drive in Nairobi.This comes after an explosion and gunshots rent the air on Tuesday afternoon.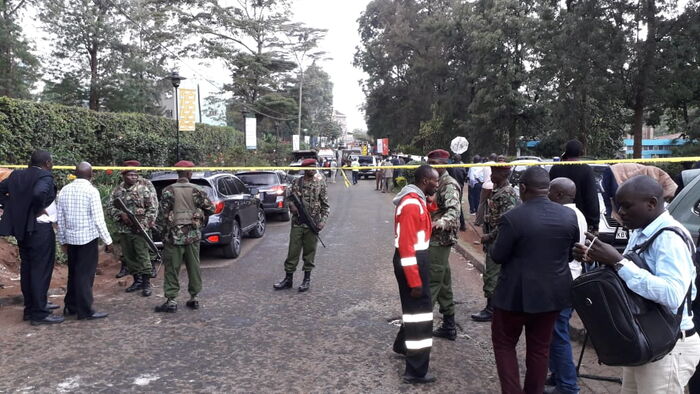 The NPS has cautioned members of the public and motorists in particular to use alternative routes to facilitate smooth operations of the police.
Police wishes to confirm that there has been an attack incident along 14 Riverside Drive. The area has since been cordoned off and motorists are advised to use alternative routes to facilitate smooth operations of the Police.

More information to follow.

— National Police Service-Kenya (@NPSOfficial_KE) January 15, 2019
Students from Nairobi University, who reside in the nearby Chiromo hostels, are ordered to vacate the premises.
Al Shabaab extremists have taken responsibility for the Dusit D2 attack.
Speaking to Al Jazeera, the group's spokesperson confirmed conducting an operation in the country's capital.
"We are currently conducting an operation in Nairobi," the spokesperson is quoted by Al Jazeera.