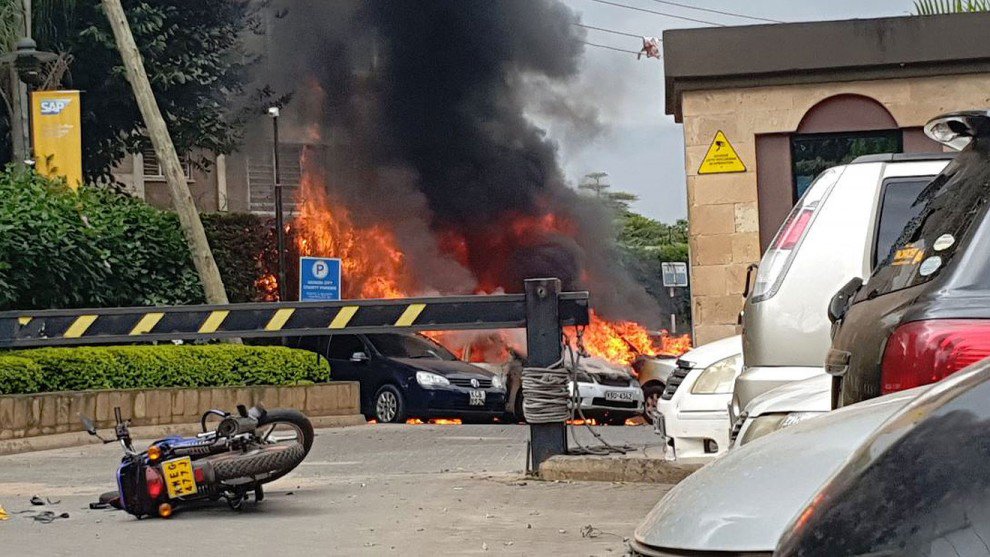 News reaching our desks indicate that the deadly Dusit Hotel explosion, along 14 Riverside Drive in Westlands could be more deadly than it looks. According to one eyewitness, there are dead bodies everywhere.
Just survived a terror attack at Riverside. Bodies everywhere. Bombs every where

— Kebaya (@armchairtycoon) January 15, 2019
The attack started at around 2:30 PM on Tuesday afternoon when gunmen forced their way into the hotel. They bombed two cars at the gate and started shooting.
It is feared that many people could be trapped inside the hotel.
GuyS TERRORISTS ARE SHOOTING AT RIVERSIDE DRIVE . CALL THE POLICE AND PRAY FOR ME

— Bryson Mwakuwona (@MwamburiBryson) January 15, 2019
WE ARE UNDER ATTACK AT 14 RIVERSIDE DRIVE

— Miss Rachel (@Iam_RachelN) January 15, 2019
ALERT: There is an ongoing attack at DusitD2, 14 Riverside, Nairobi. Exchange of fire and a car on fire. We are on the scene. More to follow.

— Africa Uncensored (@AfUncensored) January 15, 2019
The elite RECCE squad Police officers have already arrived on scene and trying to take control of the situation. The fire at the gate has already been put out and Redcross has evacuated people from nearby buildings.
More to follow…