K24 TV producer Paulah Mumia is a heart broken woman after she revealed intriguing details of her breakup with former Harambee Stars captain Dennis Oliech.
The all-time Kenyan top scorer Dennis Oliech was dumped by his long-time girlfriend and TV personality Paulah Mumia, 25, on social media, accusing him of being unfaithful and selfish.
"Some men are very useless! You will take care of them when they are broke but when they get money they look for whores. I hate you!" she spat, adding: "Never even think about me ever! Go to hell manwhore! Other men are busy investing, you're busy investing in women."
The two love birds have been on the spot in the past when they went on vacation in Angama Mara that overlooks the loveliest Maasai Mara National Park with beautiful images that were shared on their social media handles.
Paula, who works as a Producer at Mediamax Owned Station K24, has been dating Oliech since her college days at Kenya Institute of Mass Communication.
In some of the photos shared by the Former Harambee stars striker, he brags how he spending lots of money on their vacation.
"When u win Jackpot Mara……..Maasai Mara 1600usd per night" captioned Oliech in one of his photos.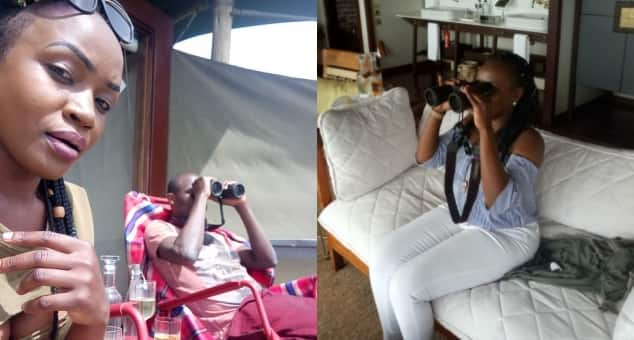 At about the time this split happened, the 33-year old football star penned a record deal (by Kenyan standards) with Gor Mahia believed to be worth Sh8.5 million over the next two years.
The posts were pulled down shortly after. When contacted by The Nairobian, Paulah – who was born in Bungoma County, grew up in Nairobi's Huruma estate and likes calling herself a 'ghetto girl' – said, "I can't talk about anything to do with that guy (Oliech). I'm done. I'm now focusing on my life."
She kept posting more disparaging remarks about Oliech on social media which only confirmed that indeed there was trouble in paradise.
"I can't talk about anything to do with that guy (Oliech). I'm done. I'm now focusing on my life. I respect what we had together. But I'm now focusing on my life and being around those who care more," Paulah was quoted by Nairobian.
However, in making the revelation Paulah took a more conciliatory tone by wishing the former Kenyan international well in his career.
"Despite everything, he is a great man with a marvelous heart. Returning to football is a great idea to keep him busy and is something he likes doing. He wont disappoint," she said.
Meanwhile, in the midst of this storm, Oliech made the best possible start in the Kenyan Premier League by scoring the winning goal on his second appearance for Gor Mahia against Posta Rangers at Kasarani on Wednesday.