Should drunkards and bhang prisoners be released?
The Criminal Justice System Audit Report published in 2017 estimated that every two years, more than four million people are arrested and detained.
In April the government announced that more than 5,000 petty offenders are set to leave jail between April and May 2018 and engage in community work as part of efforts to decongest prisons.
High Court Judge Luka Kimaru, who is also the national chairman of the Community Service Orders (CSO), said that following a report, 5,787 offenders will be released from all prisons in the country .
As part of a continued effort to decongest the prisons, at least 38  inmates serving short-term sentences  in Kitale Annex Prison Trans Nzoia County have been released in the ongoing.
According to the officer in charge of Kitale Annex Prison Francis Itulia, the facility had submitted 64 names of the already identified prisoners for review by the High Court and 38 out of the 64 were approved and set for release.
The government's plan to decongest prisons countrywide saw 38 lucky prisoners released from Kitale Annex Prison on Friday. pic.twitter.com/EnpMdqV1aQ

— Niusline TV (@Niusline) December 15, 2018
The prisoners, most of whom were petty offenders will be handed over to the Probation Department where they will undergo Community Service Order (CSO) program before being released to the community.
"I urge the general public to accept the released prisoners back into the community for they have reformed and ready to participate in building the nation," said Itula.
Itulia further noted that the prison has more than 120 prisoners convicted with petty offences.
"During their sentences they were trained on different technical and non-technical skills which I believe they will make use of and earn an honest living when they get back to the community," said Inspector of Kitale Annex Prison Solomon Karonei.
Among those released, they had been arrested for drunkenness among other offences.
"I am now a reformed man and I will never go back to my drinking spree. My focus now is to work hard and ensure my family has food on the table. Being a drunk wastes time and resources," said Masinde.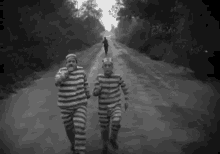 In May 2018 at least 350 inmates serving short-term sentences in prisons in Embu and Kirinyaga counties were released by High Court Judge Alfred Mabeya .
The suspects were petty offenders either serving sentences not exceeding three years or were almost completing their sentences.
Of those released in Kirinyaga County, 60 per cent were bhang peddlers and illicit brewers, while 35 per cent of the offenders released in Embu were convicted for alcohol related offences or assault.
Those released from Kerugoya Main Prison and Kathigiriri prison in Kirinyaga County were 220 while 140 were released from Embu G K and Embu Women prison.
Thirty-two per cent of these arrests are converted to charges in court.
However, 70 per cent of these charges are related to petty offences.
The CSO Act was enacted by Parliament in 1998 to address challenges in prisons, especially congestion.
The penal institutions currently have 55,000 prisoners against a capacity of 32,000.
The programme has greatly reduced the amount the government would have spent on the petty offenders had they been sent to prison.