Raila said it was unfair to look down on Moody Awori because of his age – He said the new job for the 91-year-old was light as he would only sit in board meetings once in three months – The former prime minister said it was wise to utilise Awori's experience to safeguard taxpayers' resources – Raila, however, hit out at the government for failing to establish commendable sporting facilities denying Kenya opportunity to host international events Opposition leader Raila Odinga has defended President Uhuru Kenyatta's move to appoint aging former vice president Moody Awori to the Sports, Arts and Social Development Fund board. Kenyans angrily differed with Uhuru's move to appoint the 91-year-old to oversee usage of funds at a youth department, terming it ironical in itself and an insult to the young generation.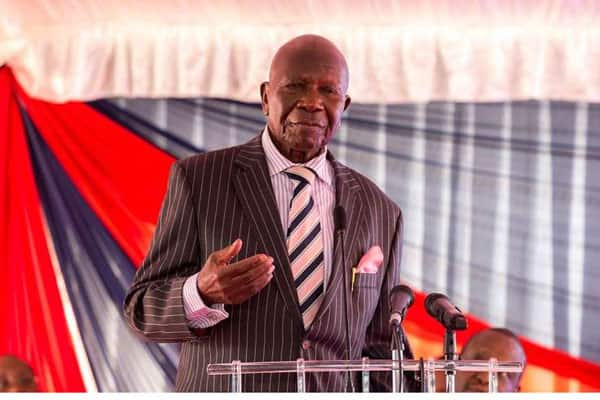 Speaking at the Kabete Technical Training Institute on Tuesday, December 11, Raila said the sitting on the board was not a tasking job as speculated by many Kenyans and Awori would excellently execute light duties stipulated in his appointment.
The former prime minister who served with the former VP under the National Rainbow Coalition (NARC) under leadership of former president Mwai Kibaki said Awori should not be judged for being 91 years hence just be left to sit waiting for his death. Raila said Awori would faithfully protect public money from being swindled thus benefit the youth and challenged young Kenyans to focus on enterprising rather than being tender brokers and plunderers of taxpayers' money.
"The president has been taken out of context on his call to have youths become entrepreneurs. He meant that people should work so they can earn from their sweat, and not wait to benefit from shady deals" explained Raila. Concerning sporting activities in the country, he criticised the government for failing to develop quality infrastructure thus denying Kenya opportunities to host international events. He opined the laxity in making such developments had relegated Kenya to a league of countries which were still struggling economically being able to host international games.
The Opposition leader called on the Ministry of Sports to ensure Kenya's football team Harambee Stars were treated well and facilitated sufficiently when they compete in the 2019 African Cup of Nations tournament. Read more: